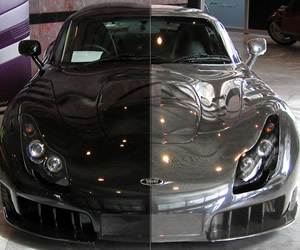 May it be a bike or a car, our very own ride is extremely close to our heart and we are always on a look out to find special ways to personalize our ride. Coloring a ride is one of the most popular things which we all jump upon as the first resort of personalizing our ride. Different colors and patterns created with those colors speak about our style and preferences which actually make our ride different from all others around.
But a problem arises when we are unable to decide whether to color out ride our self or get it done professionally? It is a true fact that sometimes coloring the ride yourself can be more costly than getting done professionally. But if you really want to get into coloring the ride yourself and bringing out your own touch in all ways then there are smart and economical ways of coloring your ride too.
Look Out For Dents
First of all, before painting, look out for any dents or similar issues in your ride. If you think that there exists any then it is best to get them out first and smooth out the surfaces. You cannot give a smooth finish to your ride with paints a colors until you take out the dents and rough edges from your ride. You can do this yourself will tools like dent wizard or marker, if the dents are too deep then get them out professionally before painting.
Quality of Paints
Secondly, never compromise on the quality of paints that you choose for your ride as quality surely makes a difference. A good paint does not only last longer but its luster and shine is way better than low quality ones. Also, make sure that you apply a good base to your ride in order to smooth its surface before applying the colors to the ride. A primer is a must to apply before painting your ride. Make sure the primer is all set and dry before painting otherwise, the paints won't set ever.
Painting The Ride
Thirdly, for better results, always have more than one coat of paint on your ride. It evens out the color and brings out the newness in your ride. Furthermore, don't forget to cover the nuts, bolts and other areas where you do not want the paints to be touched, Once the paint is done and all dry, grease the parts or polish the parts which require that to be done and after that, your ride will be ready to roll with you!