Portability, battery life, storage space and of course price are some of the key considerations when buying a travel laptop. When it's a device that will be with you on the road, it helps to look beyond just raw specs like processing power. What quickly ends up being most important is that your laptop is versatile and lightweight, easy to use, and that it can easily store everything you need (as WiFi or mobile data is never guaranteed, especially if you're travelling abroad).
[contentblock id=1 img=adsense.png]
I've travelled for many years, often working as a blogger / digital nomad. Before my nomad life, I travelled frequently either for work or holidays, and so I've been on the road with a variety of different devices. In this post I'll highlight several categories of travel and ultraportable laptops, their pros/cons, and give you some favourite picks.
Budget Chromebook laptops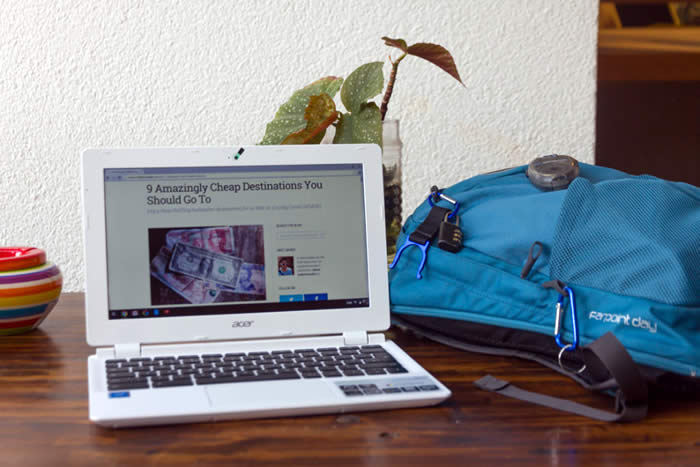 Price range: about $150 to $250 (similar in Euro, and about £121 to £202)
Typical weight: from 1.1kg or 2.5 lbs to about 1.5kg or 3.3 lbs
Want a no-frills budget travel laptop? Then a Chromebook can be a wonderful option, so long as you know what to expect. They don't run a full operating system like Windows, but only a basic one designed around the Chrome browser. This does make them cheaper, as manufacturers don't have to pay Microsoft for a Windows license. Microsoft Office or Adobe Photoshop won't run on these devices, so they may not be for the power users, but a Chromebook might be sufficient for your needs.
Chromebooks may not be that fast or powerful, though Chrome OS is also not very demanding. For regular internet browsing, watching movies, and basic word processing and spreadsheets, and for backing up files from your other devices (like a camera), they get the job done just fine. Internal storage will typically be no more than 16GB or 32GB—though you can hook up a USB drive or USB stick for more, or use cloud-based storage.
[contentblock id=2 img=adsense.png]
2-in-1 convertible laptops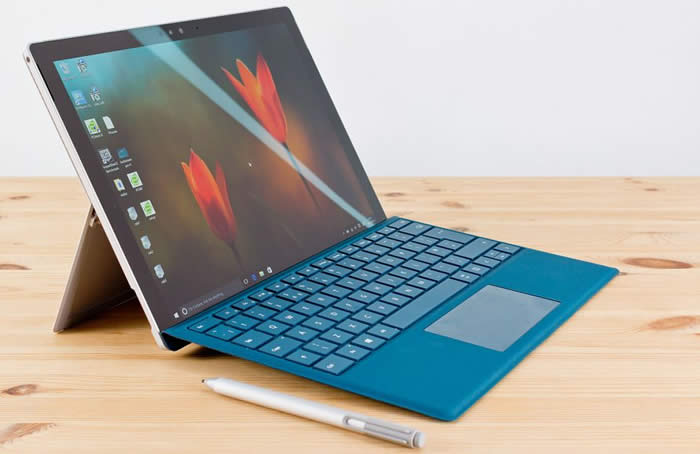 Price range: about $400 to $1200+ (similar in Euro, and about £323 to £969)
Typical weight: around 1.3kg or 2.9 pounds
Convertible laptops can be used both as a normal laptop and as a tablet. After a few awkward master-of-none concepts (such as the ASUS Transformer T100), Microsoft has now shown the true potential of convertible laptops with its amazing Surface Pro, and other manufacturers are following this template. There are times when you need a full laptop, and other times when a tablet is vastly more comfortable, and now you can have both! I used to sit in airplane chairs all crunched up with my laptop in dinosaur arms position, but now I can just fold up the keyboard and hold the screen like a book. Much better. It's amazing to have a device that can easily function as ebook reader, video player, sketchpad, and more — but which can also transform into a full laptop with keyboard when needed. The only downside to convertibles is that they tend to be a bit less powerful than regular ultrabooks, due to obvious size/design limitations. If you need to do a lot of video editing or other intensive tasks, maybe they're not for you, but they can handle other tasks very well.
Travel ultrabooks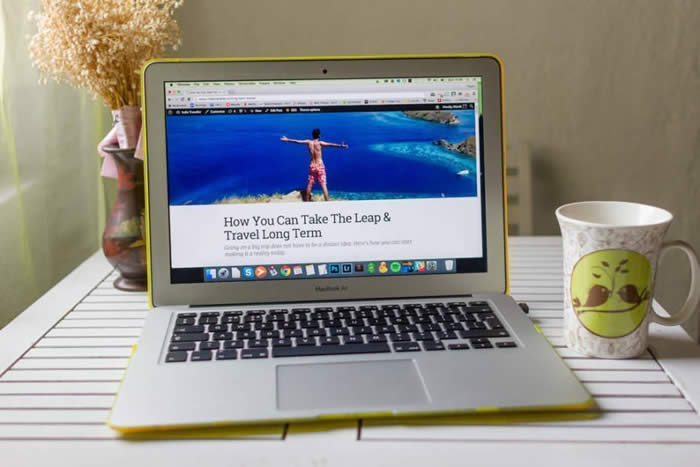 Price range: about $800 to $1500+ (similar in Euro, and about £646 to £1,211)
Typical weight: around 1.3kg or 2.9 pounds
[contentblock id=3 img=gcb.png]
Ultrabooks used to be the go-to travel laptop thanks to a combination of strong performance and high portability. Apple essentially created this category with the first Macbook Air back in 2008, and was soon followed by other PC manufacturers. Ultrabooks replaced the slower and battery-draining HDDs with faster and more efficient SSDs, ditched the optical drive (DVD or BluRay), and put everything in a lightweight unibody chassis. Having long used a Macbook Air, I now strongly recommend looking at 2-in-1 options for travel purposes. That said, since the keyboard and monitor don't need to be separate on an ultrabook, their form factor allows for more powerful processors (along with air vents to keep them cool). This means you can usually get more processing power for your buck. Ultrabooks thus remain an attractive option for those needing extra horsepower but also low battery life (usually up to 9 – 12 hours). One downside to ultrabooks versus regular laptops is that their SSD drives are typically smaller than HDDs. This can be solved by bringing an external USB drive.