Casio G-SHOCK introduces the newest models for its Master of G Series, which feature a vintage-inspired black and gold color scheme. The new GULFMASTER model (GN1000GB-1A) and MUDMASTER model (GG1000GB-1A), offer a stylish, classic look and toughness at an affordable price point. 
[contentblock id=1 img=adsense.png]
MUDMASTER is a line of watches within the Master of G Series designed for land, sea and air and has earned a strong following for the ability to withstand extreme conditions anywhere on earth.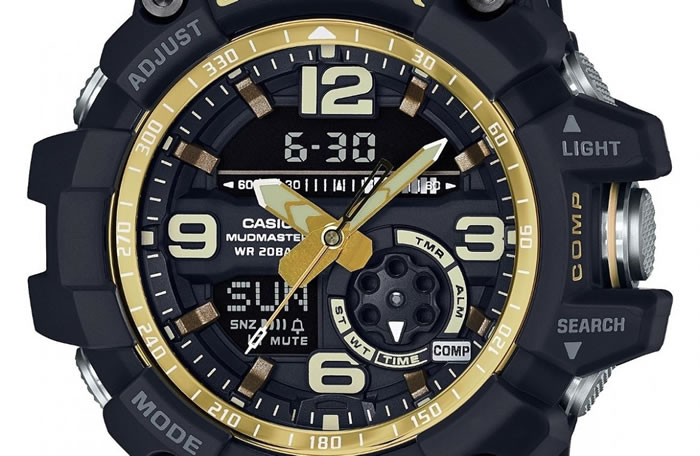 With inspiration from tools and machinery, the gold accents on both the GN1000GB-1A and GG1000GB-1A are designed to have a weathered look, as if they've endured years of service. The bezel on the GULFMASTER GN1000GB-1A recalls a ship's porthole that's been exposed to wind and rain, while the gold detail on the MUDMASTER GG1000GB-1A takes on the appearance of tools that have been polished by digging in the ground. Both models feature Twin Sensor technology that makes them truly unique. 
[contentblock id=2 img=adsense.png]
The sensors are used to control compass bearing and also to measure temperatures. The new watches are also equipped with a bearing memory that indicates the bearing from a starting point to a destination, enabling wearers to quickly check if they are on course. The thermometer sensor measures temperatures as low as -10°C (14°F) and as high as 60°C (140°F). These readings are easy to view, and the measuring unit is 0.1 C or 0.2°F.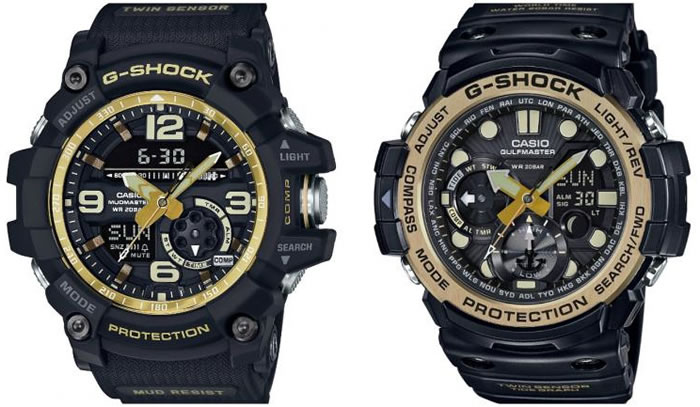 In addition to Shock Resistance, 200-meter Water Resistance, World Time with 31 time zones that include 48 cities + UTC, 1/100th second Stopwatch with split time, elapsed time, measuring modes as well as first and second place timing, Countdown Timer, 5 Daily Alarms, Full Auto Calendar, and Auto LED light (Super Illuminator), the Gulfmaster model also boasts a Moon Graph and Tide Indicator. The new G-Shock GG-1000 series is designed to be incredibly easy to use, thanks to its large buttons.
[contentblock id=3 img=gcb.png]
Those big buttons enable the wearer to quickly access the compass and temperature features built into the GG-1000. This is particularly important when spending time off the beaten track and the needs require a watch that reacts quickly. The Casio G-SHOCK Master of G Vintage Gold GN1000GB-1A has a case size of 53.4mm and will retail for $300, and theGG1000GB-1A has a case size of 55.3mm and will retail for $320.