Romantic getaways often mean long walks on the beach,candlelit dinners and pampering luxurious accommodation in 5 star resorts. Kerala Honeymoon Places include authentic ayurvedic experiences to laid back houseboat rides and these detinatons include Chembara Peak Wayanad , Treehouse facing Waterfalls in Athirappilly, Tea Gardens in Munnar and Houseboat Cruise in Kumarakom and so on . From the green meadows of Vagamon to to colonial streets of Fort Kochi, these are our picks for the best romantic getaways and best honeymoon destinations in Kerala.
1. Chembra Peak Wayanad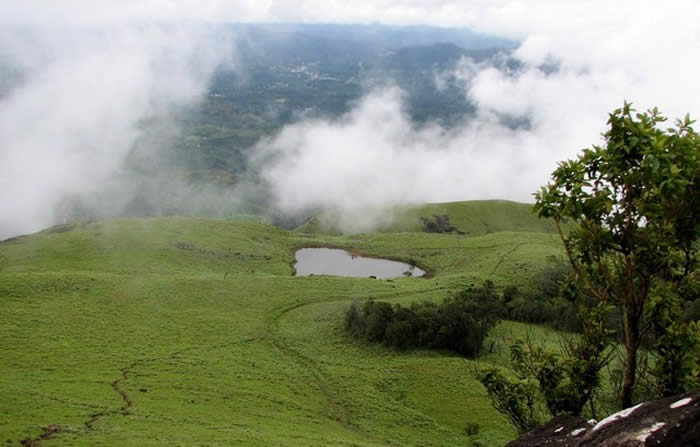 Chembra Peak is the highest peak in Wayanad district of Kerala and a perennial heart shaped lake half way to the top of the peak is rated among the best honeymoon spots in Kerala.The lake is believed to be perennial and always has water in it at any time of the year. The heart shaped honeymoon lake is halfway to the peak and you need to walk and trek through about a km or two of dense trees to reach the top of the peak after reaching the lake. The Lake is mostly covered with mist and snow and is an ideal place for a couples hangout and is rated among the best honeymoon places in Kerala. Checkout our Enticing Wayanad Tour Package for a trip to Chembara Peak.
2. Treehouse facing Waterfalls in Athirappilly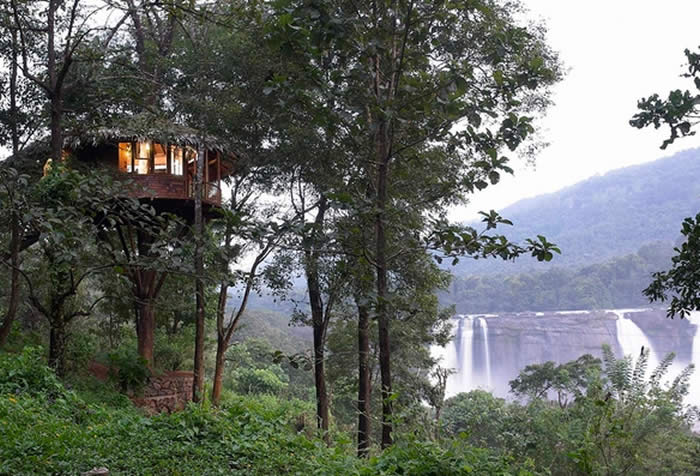 Athirappilly is largely untouched by crowd that comes to Kerala for sightseeing and tourism, and there is a tree house resort in Athirappilly that provides unparalleled rumble, roar and views of waterfalls amidst the forests with seclusion and privacy.You can sit out in the lush green lawn in this resort and watch as the waterfall disappears at the end of the day as sunlight fades away and you can also have a pristine view of waterfalls while doing a swim in the pool that faces waterfalls. This honeymoon place that is the hidden gem in Kerala is an ultimate seclusion for any couple.
3. Tea Gardens in Munnar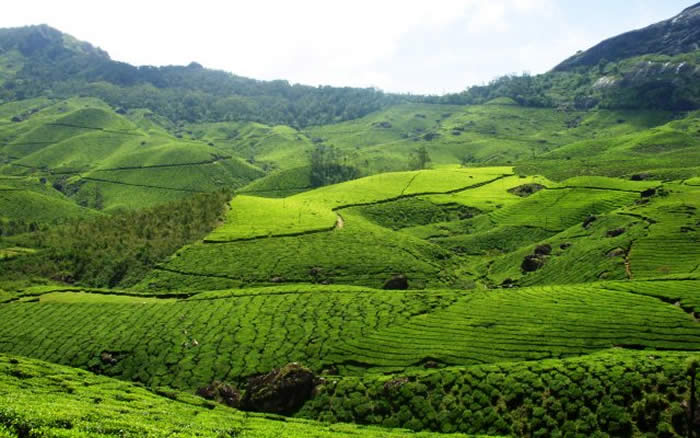 The verdant tea gardens of Munnar, basking in the combination of white mist and sunshine at dawn, where ladies gets ready to pluck fresh tea leaves is the most popular honeymoon destination in Kerala. You step out into the the mountains covered with tea gardens and time stands still. Visitors can take picture while walking through these gardens with the shade of green all around. The lush green tea gardens , at the heart of the Munnar, is the showstopper here. . Your senses open up to take in the fragrance of the tea , punctuated by birdcalls, and the awe-inspiring enchanting view of other tourist attractions like echo point and waterfalls.Checkout our Misty Munnar Tour Package for a trip to Chembara Peak.
4. Houseboat Cruise in Kumarakom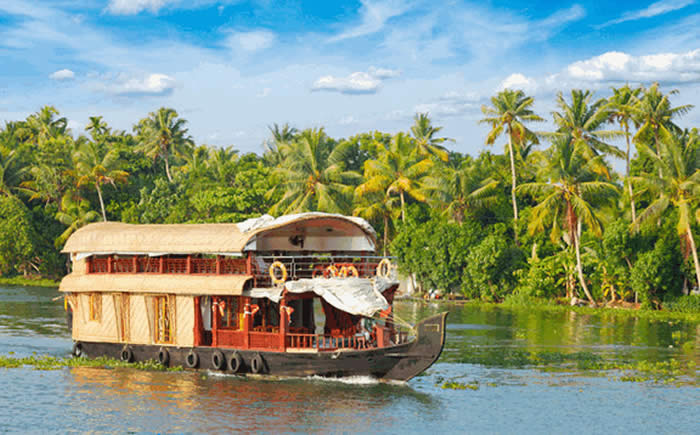 Kerala still boasts many of its original waterways in backwaters of Alleppey or Kumarakom. Take a cruise through the backwaters in Kumarakom for up-close views of verdant rice paddies and verdant coconut groves. We recommend Kumarakom over Alleppey for couples as Kumarakom has vast backwaters unlike the narrow backwater ways in Alleppey which are much more crowded.If you're planning on visiting the backwaters of Kerala, consider booking a houseboat from August to February. Summer months means humidity, more tourists and overcrowded backwaters, while monsoon brings shuttered businesses and stormy weather and the season we suggested is the best time to go to Kerala that will offer the best food, less crowd and enjoyable climate.
5. Private Traditional Kerala Cottage in Marari Beach with swimming pool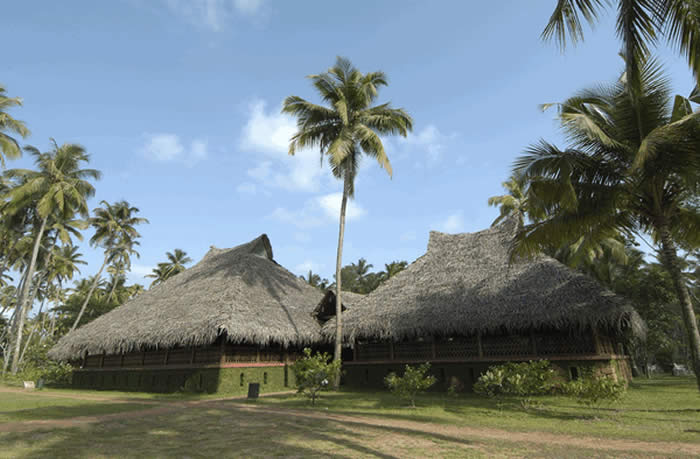 Mararis shimmering turquoise-blue waters are an attraction in their own right with bright sun, and delicious food attract honeymooners and seasoned travelers alike. Maybe you would prefer that dip before you start the morning with a beach walk in the morning in a swimming pool inside the private cottage. Swimming in a vast pool where privacy is secluded is an instant pick-me-up for any partner. Make some great memories and play some couple games, maybe. Nothing relaxes tired legs after a day's coupld walk and stroll like spending some the couple time in the swimming pool before a good nights sleep as well.Checkout our Classic Kerala Luxury Holidays for a trip to Chembara Peak.
6. Rocky Promenade of Kovalam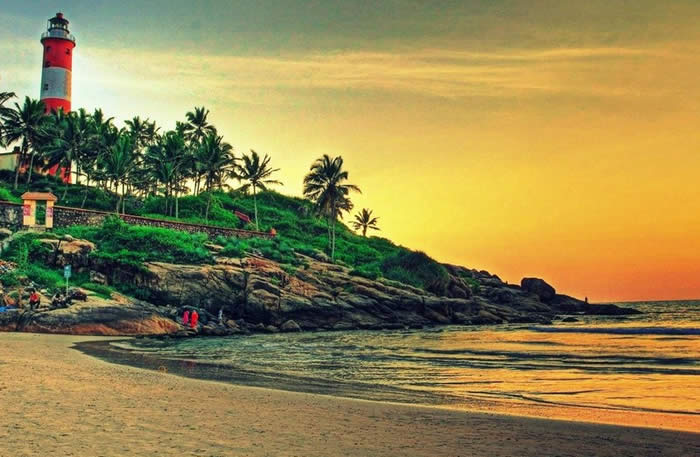 The rocky shores of the Kovalam Beach belong in the pages of a romantic mills and boon novel where a massive rocky high land that juts out into the sea on the beach has created a bay that is ideal for bathing in the sea with calm waters. Visitors can explore unique cliff top and fishing villages, enjoy a cultural show, or stroll through beachfront highlands. Climb the Cliff and view the lighthouse of Kovalam that lookout over Kovalam shoreline and the Arabian Sea . Spend the day touring Kovalam in one of the Kerala Luxury Packages, a lush seaside village with cliffside gardens and plenty of people watching. You can enjoy your stay at the Leela Kovalam beach resort is known for its world class dining, seamless service, and palatial accommodations. Enjoy the Sunbathing, swimming, herbal body toning massages, special cultural activities like Kathali show and and ayurveda massage with your special one. Checkout our Luxotic Escape for a holiday in Kovalam at two of the best beach resorts in Kerala.
7. Heritage Streets of Fort Kochi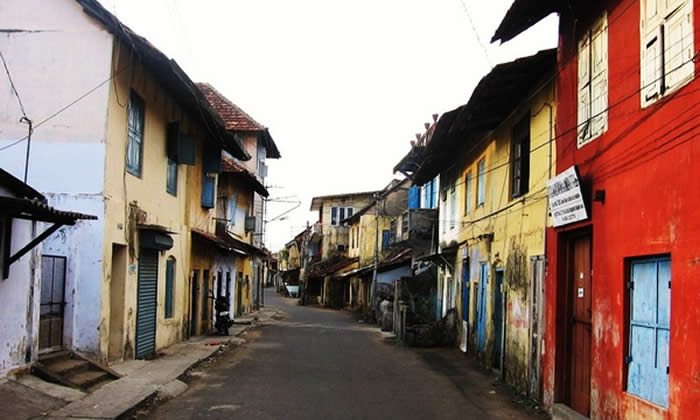 Fort Kochi's many moods and the historic ambience, and laid-back colonial charm make it a cosy and cultural romantic getaway. Stroll through wide streets in the Princess Street, which features heritage bungalows and roadside eateries packed with the non Indian crowd. The boat jetty offers picture-perfect scenery, complete with Chinese fishing nets and views of the Kochi Harbor. Spend an evening in Kasi Arts cafe, and explore the property's hart collection and friendly environment.The Princess Street boasts some of the best restaurants and boutique cottages, and it offers narrow alleys with quaint shops perfect for purchasing some souveneirs from Kerala. Enjoy Fort Kochi with our Iris Cochin Spice Tour for a holiday to enjoy colonial Fort kochi.