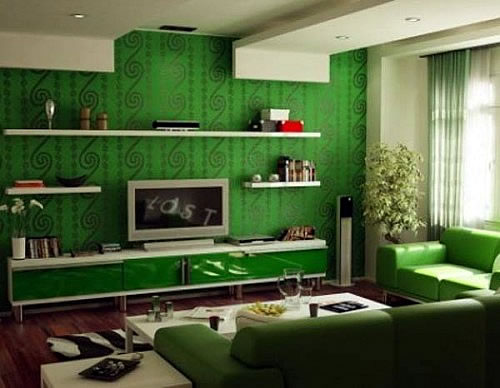 With the ever increasing toxics present in the chemicals of daily-use products, becoming preys to harmful diseases such as cancer or other serious health problems is almost inevitable. Therefore, it is essential to use eco-friendly products in order to keep the environment as well as your family protected from being exposed to such life-threats. And, since they say charity begins at home using organic wallpapers can bring about very healthy changes in your home's environment.
Conservation of the environment reads like a fashion statement these days anyway. This is because everyone is fully aware that even the most standard product these days carries chemicals that may cause harm to an individual's life and others around him. Eco-friendly products help replace these chemicals with greener ingredients – by green it is meant that they use those materials that are biodegradable, recycled or organic.
Humidity and extra moisture in your home's environment is usually absorbed by the paint on your walls or wallpapers and can trigger asthma related allergic reactions, sickness and provide an excellent breeding ground for germs and other nasty pollutants. Also, since it produces water bubbles in the corner of most walls, the stretching and peeling off of wallpapers is a common occurrence. To help eliminate all these problems and more, using eco-friendly wallpapers is the best solution.
Eco-friendly wallpapers are present in markets in various different patterns, colors, animations and sizes mainly because they are largely in demand these days. This is because people have realized on a large scale that standard wallpapers usually leave stains on the partitions of their property and disturb the physical appearance of all the walls around them.
These eco-friendly wallpapers tend to be tough against tearing and stains, fire-proof, and are 100% recyclable. Most home decor companies have started manufacturing wallpapers that are rich green and made solely from plants. Some of them produce wallpapers using Ecore -a material that uses technology which enables the least amount of energy used to manufacture these wallpapers. Also, trending this season are retro botanical designs and landscapes that give a very natural look.
Experts claim that famous decor designers such as Decor Coat and Muna Design Studio have started to use organic wall decor that minimizes the use of volatile organic compounds. This aids in preventing the smell that occurs once wallpapers are applied that causes indoor pollution and is hazardous to health. Eco-friendly wallpapers are made of grass cloth and cotton fiber usually that will definitely not have a negative impact on our surroundings. Not only this, but companies have started manufacturing wallpapers with cotton cellulose, paper products and other materials that can easily be recycled.
It has become quite mainstream and you should give it a try to attain all bountiful pros of this environmentally friendly product. It could be a hassle, however, when choosing the perfect eco-friendly wallpaper for your home. Therefore, a few tips to remember while purchasing eco-friendly and pleasant wallpapers are:
Match the pattern of your wallpaper with the color of your house and ceiling.
Make sure to never cover the edges of the wall since it may not pull off as well as expected.
Try to match the measurement of your wallpaper with that of your wall accurately.
Try to keep a similar flow of patterns for all walls so that the house doesn't look extraordinarily fancy