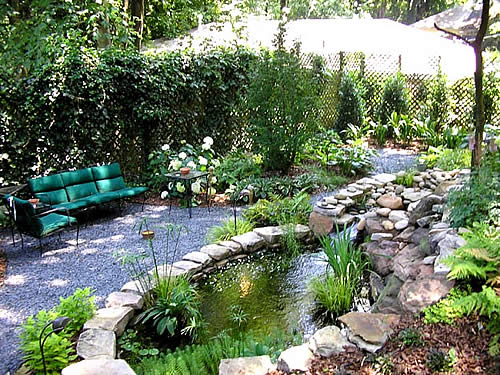 A beautiful garden works as a jewel for a home. If decorated and maintained with utmost attention, it can become a wonderfully pleasant place for get-together and parties. Apart from the enjoyable gatherings, it can serve very well for some peaceful moments as well; like enjoying a cup of coffee with a dear one or even just reading a book in the pleasant evenings.
There are as many ideas for decorating your garden as you can think of; beautiful plants, pots, lights, furniture and many more. But there is another aspect that you can use to decorate your garden and make it more appealing; using rocks and stones. Here's how you can use them for garden decoration:
Beach rocks or beach pebbles have rounded edges and they come in different sizes and natural shapes. They can be used for decorating your garden in many ways. You can decorate your garden's corners with them. Add some plants and a small waterfall to give a nice and beautiful natural look to the garden.
To add a luxurious look to your garden decoration, you can add a few rock statues for your garden. You can use as many as you like depending upon the size and theme of your garden. They come in a lot of shapes and sizes that you can choose from. Try decorating a corner with a statue or make it the focal point of your garden and focus it with a few spot lights. You will love your guests for their compliments on it!
You can always decorate your garden with huge rocks by setting up a garden pathway with them. It will add a sophisticated look to your garden. To focus on that pathway, you can place plants on both sides or you can also use some spot lights to focus on the rocks of the pathway. Also, arranging different colored rocks in a geometrical order will make it look even better.
Add nature friendly pieces
The whole garden decoration is full of natural beauty, so why not add something to enhance the look. You can add some decoration pieces made of stones in your garden; like some bird baths and bird feeders will do the perfect job. This will also attract the birds to your garden and make it more pleasant to spend time over there. You can use either hanging pieces or pedestal pieces depending upon the overall theme of the garden.
If the design and size of your garden allows, you can make a small staircase made of stones at the corner of your garden. It will add an elegant look to your garden. That staircase may be at the entrance from your home to the garden or it can only be a decorative idea for your garden. Add some pot plants to the staircase to make it more beautiful and elegant.