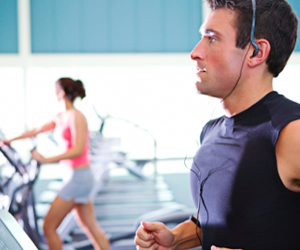 Music adds a life to things & makes our work more enjoyable. Same is the case while exercising in the gym. Without some good workout songs exercise becomes boring. These workout songs pumps up to hit the weights & makes it fun.
Music motivates & inspires everyone greatly that's why most of the guys are wearing headphones listening to top workout songs which allows them to go an extra mile which they always wanted to and making it more enjoyable.
Dropping pounds and getting into shape is more fun when done with some cool workout songs which gets all you fired up to hit the weights, do some exercise and stay fit. Without some upbeat and fast workout songs the exercise doesn't seem to be appealing to you. Any workout even a few minutes can be difficult and it may burn you out. The snappy fast upbeat workout songs inspire you to push harder. From stretching to running, music makes workout an enjoyable activity.
Here is a list of top workout songs for New Year.
1. Good Feeling (Jaywalker Remix) – Flo Rida
2. You Like a Love Song (DJ Escape & Tony Coluccio Club Remix) – Selena Gomez & The SceneLove
3. 2012 (It Ain't The End) – Jay Sean & Nicki Minaj
4. Bleeding Love (Moto Blanco Radio Edit) – Leona Lewis
5. Party Rock Anthem – LMFAO
6. Bubuonic – Autoerotique
7. We No Speak Americano – Yolanda Be Cool & Dcup
8. We Found Love – Rihanna & Calvin Harris
9. Played A Live – Safri Duo
10. Levels – Avicii
11. Rihanna – We Found Love (Cahill Club Remix)
12. Club Can't Handle Me Right Now (Manufactured Superstars Remix) – Flo Rida & David Guetta
13. More (RedOne Jimmy Joker Remix) – Usher
14. Tik Tok (Fred Falke Club Remix) – Kesha
15. You Da One (Almighty Radio Edit) – Rihanna
16. Push & Rise (Original Mix) – Wolfgang Gartner
17. Sweet Disposition (Axwell Remix) – The Temper Trap
18. Stereo Love (Paul & Luke Remix Edit) – Edward Maya & Vika Jigulina
19. Little Bad Girl – David Guetta, Taio Cruz & Ludacris
20. We Found Love – Rihanna & Calvin Harris
21. I Like How It Feels – Enrique Iglesias, Pitbull & The WAV.s
22. Single Ladies (Dave Aude Remix) – Beyonce
23. Bonkers – Dizzee Rascal & Armand Van Helden
24. Celebration – Madonna
25. LoveGame (Dave Aude Remix) – Lady GaGa
So put on your headphones, switch on some fast and upbeat workout songs, do the exercise and get in shape.