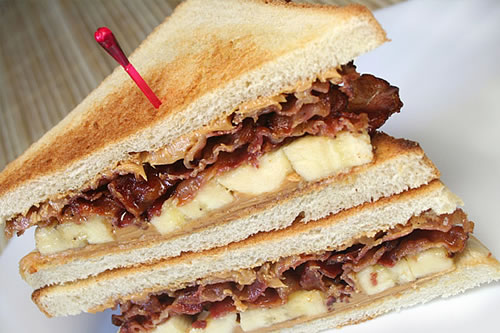 Sandwiches could be one the easiest and fastest way to satisfy a guy's stomach given that it is made with some of the most savoring and filling ingredients. However, most men these days ignore the fattening condiments or extras whether they're brown bagging the sandwich or self-making it at home. Always aim for a sandwich that is no more than 450 calories, fiber-rich and full of vegetables that will keep you full till dinner.
The best part about sandwiches is that they are endlessly versatile because you can add up and pile up a lot of deliciously healthy toppings on almost every bread you can find. Altering your sandwich with some of these healthy toppers will keep your weekly routine active and much more worth living.
• Broccoli – Since it is a member of the green cabbage family Broccoli contains a substance called Sulforaphane which is very helpful is reducing the probability of malignant tumors from occurring. It helps in preventing cancer and other than that it is the most delicious topping you can have with a chicken or beef filled pattee sandwich anytime, any day.
• Herbed goat cheese spread – This spread, produced by a number of companies, is known to be to best appetizer with bread and is packed with lots of flavour you will surely enjoy. Whip up with a tangy garlic herb and nutmeg infused spread.
• Bread and butter Zucchini pickles – Got loads of Zucchini to spare? Top it up on turkey, ham or roast beef sandwich and add a welcome zing and crunch to your first bite.
• Maple Mustard – Spice up your taste buds by topping your sandwich with a mixture of yellow and spicy brown mustard along with maple syrup. Enjoy the thrills.
• Creamy Avocado and white beans – Two creamy and delicious, yet healthy, sandwich toppers. Avocadocontains mono-unsaturated fats,contributes nearly 20 vitamins and minerals and only 50 calories per 1 oz.
• Hummus – Great way to get healthy fat and protein. Originated in the Middle East, Hummus is a paste made of chickpeas and tahini and is usually eaten with any flat bread. Top your sandwich up with this delicious paste and enjoy its nutritional value. It does not contain any cholesterol or saturated fats. Instead, it helps prevent the buildup of cholesterol in your blood vessels.
• Chestnut purèe – Chestnut is widely known for its health benefits especially for its body building characteristic. It helps repair microscopic holes and leaks in blood vessels and is the best tasting creamy puree on the top of your sandwich! Superb sandwich topper for lunch and you can even dip it in chunky raw vegetables to add more flavour
Whatever sandwich you're making make sure to never miss out on the veggies because they add richness to your sandwich and fresh flavour to any topper!