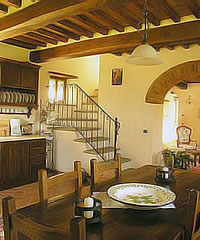 Decorating home is an utmost charm; Tuscan decor is the theme that fulfills this charm imparting not much trouble to one stepping first time in it.
Since it carries its origin to Tuscany, an Italian rolling countryside pertaining decor with in fluted columns and with no decoration other than moldings Tuscan home decor today is a full-fledged home decor theme. It is inspired by rustic farmhouse villas, beautiful Italian art, and exquisite hand painted ceramics of Tuscany. It is all about decorating in your own way though with good designing abilities that's why Tuscan decoration is painting the colors and texture of nature into living pace either it is modish or rustic. But Tuscan decor bestows more life to rustic home than modern one. So, look at the tips below to decorate your home in Tuscan style that is simple to follow but acquire great results.
Tuscan decorating style for bedroom
It endows ancient characteristics to bed room decorated in Tuscany way. Firstly white wash your bedroom walls then put framed old family pictures or paintings there. Then comes bed as main part of Tuscan bedroom that includes robust, blackened and wrought-iron frames eternally.
Bedside tables are selected typically in old decorating style. A white marble slab or brown polished wood is placed at top with lamp having enameled black patterns.
Small round mirror on white washed wall compliments grandly all the Tuscan decor. It makes your room look more spacious and ancient.
Wood and tin are essential part of Tuscan decor and that's for chest of drawers placed in Tuscany style. A huge chest of drawers placed wall side crowned with framed mirror supplies Tuscan ornamentation.
A fairly large wardrobe with gracefully brown paint is required in bedroom that fulfills its Tuscan decor.
Windows are treated more carefully to impart Tuscan style to bedroom using mostly white wavy curtains bordered with white crochet lace to transform bedroom into Tuscany style.
Tuscan decor in its comfort and ease is most desired decor today created with few pieces either they are torn or modish. You only need to know basic Tuscan elements as detailed here.