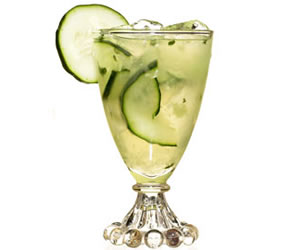 Green Sangria The best part about this drink is it's also a snack! The fruit makes a nice boozy snack while you're drinking the sangria.
Ingredients:
1 bottle Pinot Grigio
1 1/2 ounce Midori melon liqueur
1/2 green apple, cored and sliced
1/2 lime, sliced
1/4 English cucumber, sliced
10 mint leaves
1/2 kiwi fruit, peeled and sliced
Club soda to taste
Method:
Combine all ingredients except club soda in a pitcher and refrigerate for a minimum of two hours and a maximum of eight hours. For individual servings, spoon some of the fruit into a wine glass before pouring and then top off with a splash of club soda, diet lemon-lime soda or diet ginger ale to taste.