I got a text message from Editor-In-Chief Sharon Carty one afternoon proclaiming that her new favorite SUV is our long-term 2014 Jeep Cherokee. And she's not alone. I'm not sure if anyone else on staff would go so far as to use the "favorite" descriptor, but after just over a month of honeymooning with our new long-termer, it's safe to say that the Jeep is quickly finding its way into the good graces of a number of Autoblog staffers.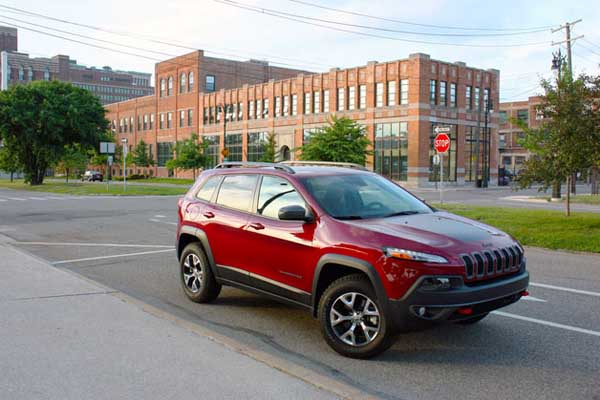 There's good reason for all that praise, too. Thus far, the Jeep has proven itself to be incredibly competent and comfortable for daily life – it's functional, quiet, and packed with a host of amenities that make it easy to live with. It's been wholly trouble-free (with less than 4,000 miles on the clock as of this writing, it ought to be), but even nitpicks have been few and far between.  The nine-speed is geared for efficiency, first and foremost. And while that's easier to overcome in the 200S thanks to its larger 3.6-liter V6 and the transmission's paddle shifters and sport mode, that efficiency-first mindset is more clear here in the Jeep.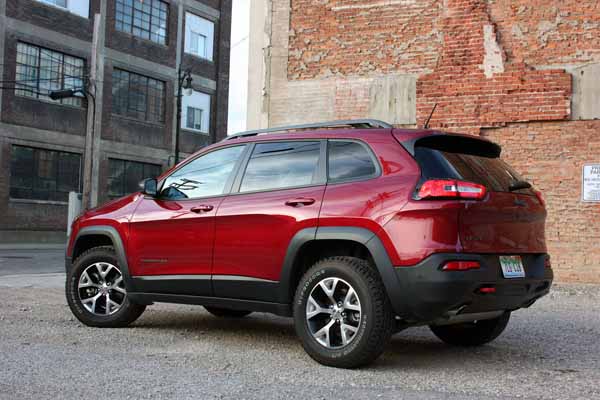 The 3.2-liter V6 produces 271 horsepower, compared to the 3.6's 295, but our Cherokee has a full 633 more pounds of heft to lug around with that reduced power (compared to the all-wheel-drive 200S). Off the line, the Jeep has enough grunt to get you going, but if you aren't more assertive with the throttle, the transmission will quickly jump up a few gears, keeping your revs low and impeding forward progress. Around town, for light-throttle acceleration and passing, the Cherokee can often feel sluggish, but again, if you really get on the thing, it'll move just fine. That said, the nine-speed actually feels a bit more refined here in the Jeep.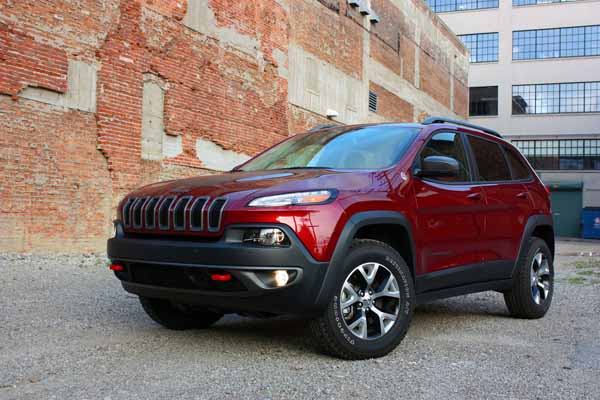 It's less noticeable, and doesn't seem to hunt for gears as much as the version I experienced in the 200. And when you don't need the power, the 9AT is helpful from a fuel economy perspective. The EPA rates the 2014 Jeep Cherokee Trailhawk 4×4 at 18 miles per gallon in the city and 25 mpg highway, and we're averaging a solid 22.3 mpg in a pretty even mix of driving scenarios.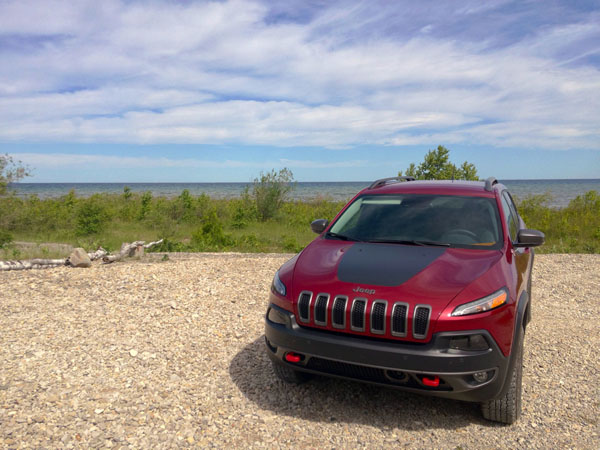 That's not a particularly impressive figure if you look across the compact CUV class, but to be fair, the Cherokee is far more capable off-road than rivals, and that extra ability adds weight in the form of 4×4 componentry and drag in the form of brawny tires. Besides, the engine on this thing is still relatively green – just 3,660 miles as of this writing – so we'll see if those numbers can improve. As of now, the best we've been able to hit on a highway jaunt has been an even 24 mpg.