As you may know, Autocar was first published in 1895 when Henry Sturmey, founder of The Cyclist, a popular journal dedicated to pedal power, noticed the arrival of cars on the carriageways around Coventry. He was certain these newfangled contraptions had a future and, within a week, he launched a pamphlet on the subject. Autocar was born.
[contentblock id=1 img=adsense.png]
What is most astonishing about Sturmey's prescience is that he made this leap of faith at such an early stage in the evolution of the car.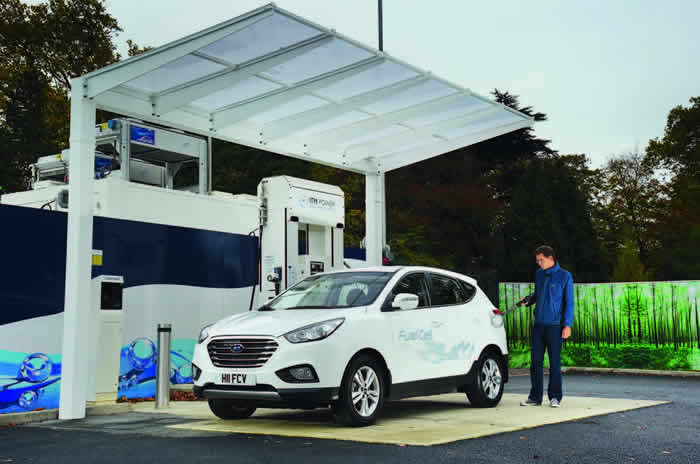 Accurate records are hard to find, but it seems likely that you wouldn't have needed to go much beyond your fingers, thumbs and toes had you been counting the total number of cars on UK roads at the time. Over the 120 or so years since, Sturmey's reputation as a visionary has been cemented. Where that ties in here is with our decision to take the plunge and become the first journal in the UK – and possibly the world – to run a hydrogen-powered car on its test fleet. Over the next few months we will tackle head on the many debates to be had around why we have selected a left-hand-drive car based on a superseded model – and one that costs more than £50,000. For now, though, suffice to say that all of the answers lie in wonderment at the powertrain and what it can do for car enthusiasts today and for the future. As a result, we'd scarcely be more excited had a LaFerrari joined our fleet.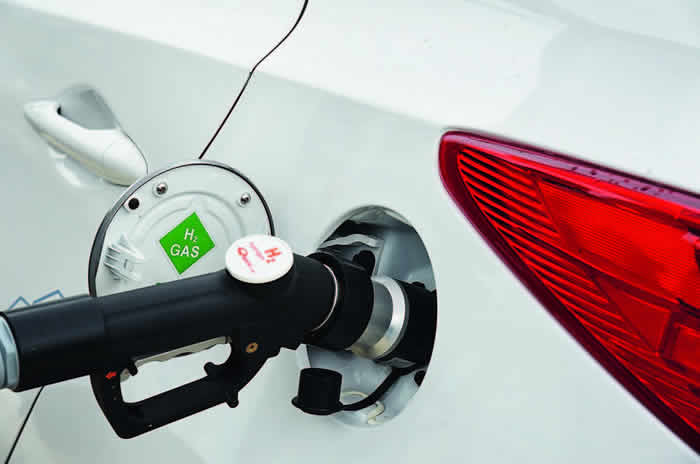 What the Hyundai lacks in hypercar looks and performance, it makes up for in the truly futuristic technology that is housed towards the rear of the car and under the bonnet. At the back – fore and aft of the rear axle – sit two gas cylinders in place of a conventional petrol tank, home to 144 litres of compressed hydrogen when full. To the front sits a fuel cell, and the hybrid battery packs are located under the vehicle. The cleverest bit is under the bonnet, and as I type this description, I have my fingers crossed that I was concentrating while studying for my GCSEs.
Inside the fuel cell sits an anode, a cathode and a polymer electrolyte membrane. When the hydrogen flows over the anode, it splits into hydrogen protons and electrons. The polymer electrolyte membrane allows only the protons to pass through.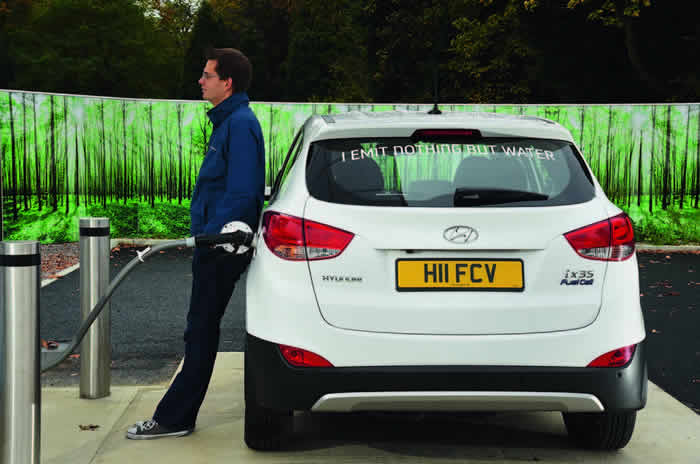 The electrons travel to an external circuit that operates the motor. At the cathode, electrons and protons react with oxygen from the air to create water – the only tailpipe emission from the process, and famously pure enough to drink. The batteries are mainly there to boost energy at periods of peak demand. My cause is greatly helped by the location of one of the country's few hydrogen refuelling stations in Teddington, Middlesex, down the road from where Autocar is based.
[contentblock id=2 img=adsense.png]
However, the infrastructure is improving and the car's realistic range of 280 miles between fill-ups (as opposed to the 369 miles Hyundai is forced to declare by governmental regulation) makes getting around pretty simple.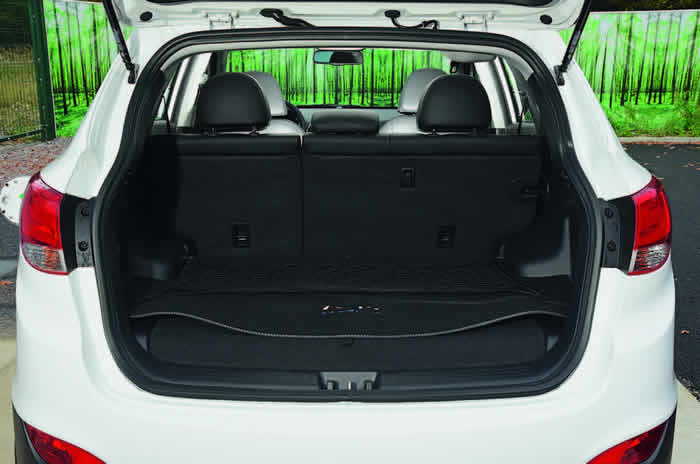 While Land's End to John O'Groats would be a challenge, it's a blackspot in the north of England – after Sheffield – that is the major problem. From London, it shouldn't be a problem to head south, east or west, or to get around if I can sneak it up into Scotland. Planning will be key. If I want to visit my in-laws in Pembrokeshire, it should be possible, with refuelling stops on the M4 in Swindon and Swansea ensuring I can get around when I'm there and make it back again. 
I'm told London to Paris and back should be a doddle, too. I hope to test both. But it'll mean signing up to the various fuel suppliers and learning the intricacies of their fuelling systems. To date, all have been simple to use but slightly different; such is the price of being a pioneer. There's little to no risk of being stranded, as long as I do plan well.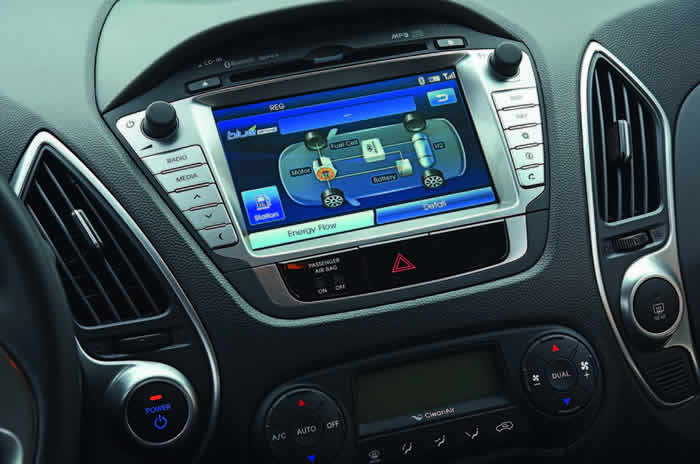 With fewer than 100 hydrogen-powered cars on UK roads and a refill taking around three minutes, there's no threat of lengthy delays waiting for another car to move on so I can top up. To my mind, and writing as the owner of a Renault Zoe, the risk of finding all available charging points occupied is a bigger deterrent to long-distance travel in a battery powered EV than any range anxiety.
Beyond that, the ix35 is remarkably normal aside from a slight upward bump in the boot (space is down to 436 litres, from 591) to accommodate the hydrogen tank, the steering wheel being on the wrong side, some different instrument readouts and graphics, and a few other subtle styling changes, the most obvious of which are those stickers, which do not come as standard.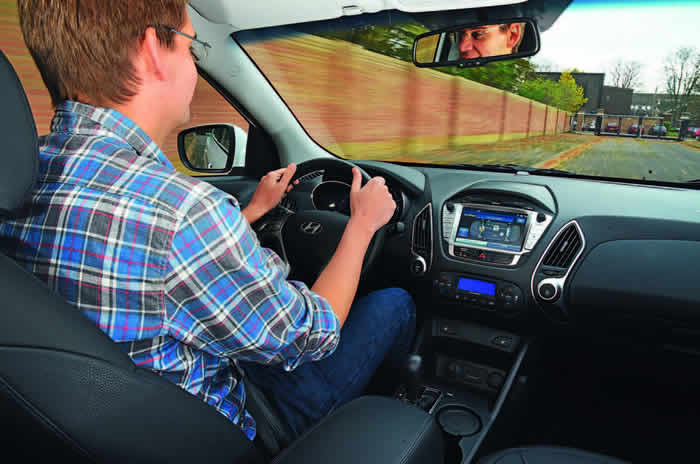 It is even remarkably normal to drive and use, in the way of all electric cars, with impressive initial acceleration followed by adequate but average power delivery as the limitations of the electric motors kick in and the extra weight of the powertrain (around 100kg over a diesel here) count. For the record, the ix35 is just over 1.5sec slower than a 2.0-litre diesel to 62mph and tops out at about 100mph. Torque is rated at 221lb ft. It's enough.
[contentblock id=3 img=gcb.png]
This is a normal, practical, everyday car with a remarkable powertrain, then. Will hydrogen power prove to be as significant as the arrival of the car itself? As I wrote, Sturmey made his decision on the impact of cars within a few days of first seeing one, so a couple of months should be plenty of time to draw some meaningful conclusions.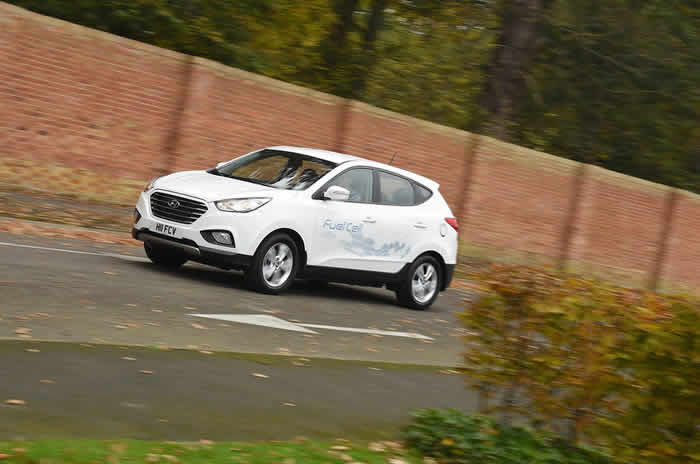 Via: autocar