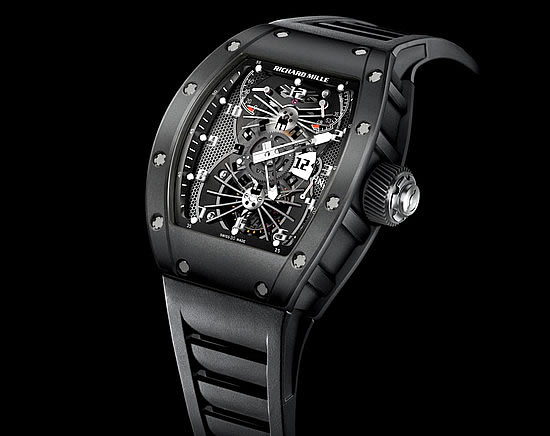 The Caliber RM022 is a manual winding tourbillon movement with hours, minutes and dual time zone on a transparent sapphire crystal disc, which comes into view when suspended above the light colored field located at 3 o'clock. It also hosts a power reserve indicator (70 hours) between 11 and 12 o'clock, a torque indicator that shows the main spring's internal tension and a function selector to show the watch's state in each of the positions for winding, neutral and hands etting.
Orthorhombic titanium aluminides are new group of alloys, developed from the main class of titanium aluminides, which possess a specific crystalline molecular structure ordered on the orthorhombic phase of Ti2AlNb. Its use within a honeycombed geometrical pattern was originally the subject of research by NASA for application as a core material on supersonic aircraft wings, where resistance to extremely high temperatures and torsion is paramount. The alloy in this honeycombed form has unparalleled stiffness, a low thermal expansion coefficient and exceptional torsion resistance.
This new RM 022 Carbon is an understated timepiece that epitomises the Richard Mille philosophy, uniting the best of haute horlogerie with innovative inspiration derived from the most recent scientific research into super lightweight metals and other materials.
Technical Specifications:
Baseplate of honeycombed orthorhombic Titanium aluminide / Carbon nanofiber
Power reserve: circa 70 hours
Torque indicator
Dual time zone indicator
Power reserve indicator
Function selector
Variable inertia, free sprung balance
Fast rotating barrel (6 hours per revolution instead of 7.5 hours)
Winding barrel teeth and third-wheel pinion with central involute profile
Barrel pawl with progressive recoil
Modular time setting mechanism fitted against the case back
Wheel based time setting system (back of the movement)
Closure of the barrel cover by eccentric screws
Ceramic endstones for the tourbillon cage
Central bridge in rigidified ARCAP
Spline screws in grade 5 titanium for the bridges and case