Make-up free Kim Kardashian heads to the gym as she keeps up her fitness regime following 7-pound weight loss. She allegedly dropped seven pounds in just two weeks.
[contentblock id=1 img=adsense.png]
And Kim Kardashian is clearly determined to keep the weight off. The 33-year-old showed off her feminine curves as she headed to the gym first thing Thursday morning in Calabasas, California.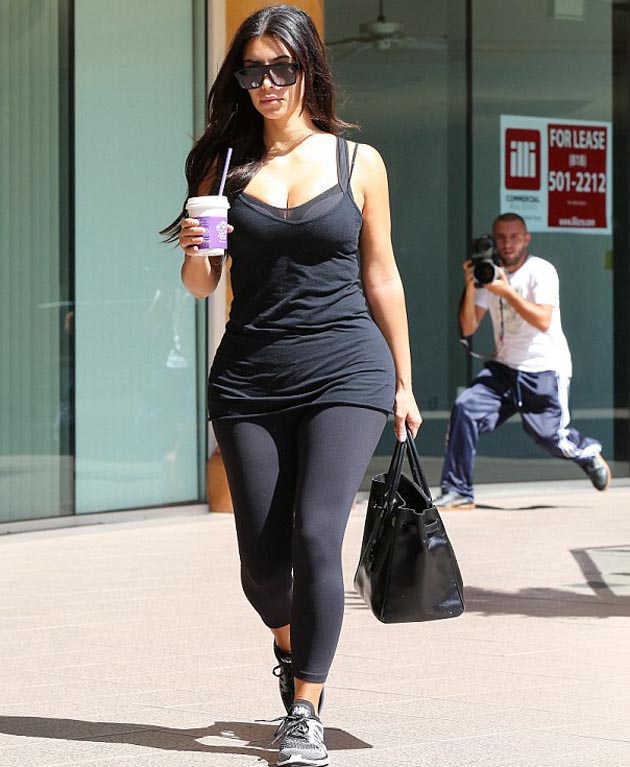 The mother-of-one showed off her famous derriere in tight black leggings paired with a long tank top and charcoal-coloured trainers. She carried a black designer handbag and went without make-up for a change, showcasing her natural beauty.
[contentblock id=2 img=adsense.png]
The reality wore her dark hair loose and wavy as she sipped her takeout coffee through a straw, perhaps to prevent her teeth from staining.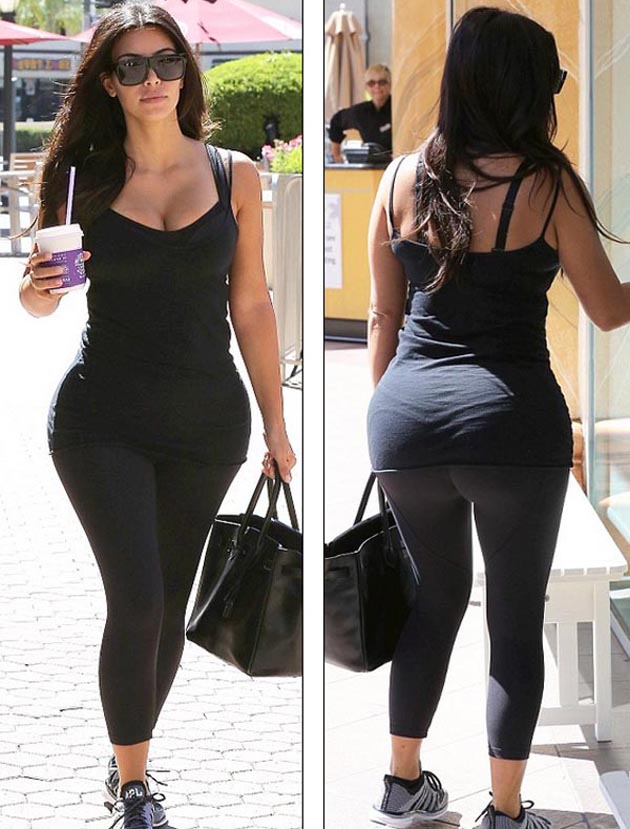 Kim took the time to chat with some excited fans, who stopped her on her way to the gym. Us Weekly reported last week that the E! queen lost seven pounds after cutting back on her carbs. The magazine's source shed some light on the Keeping Up With The Kardashian star's state of mind about her body.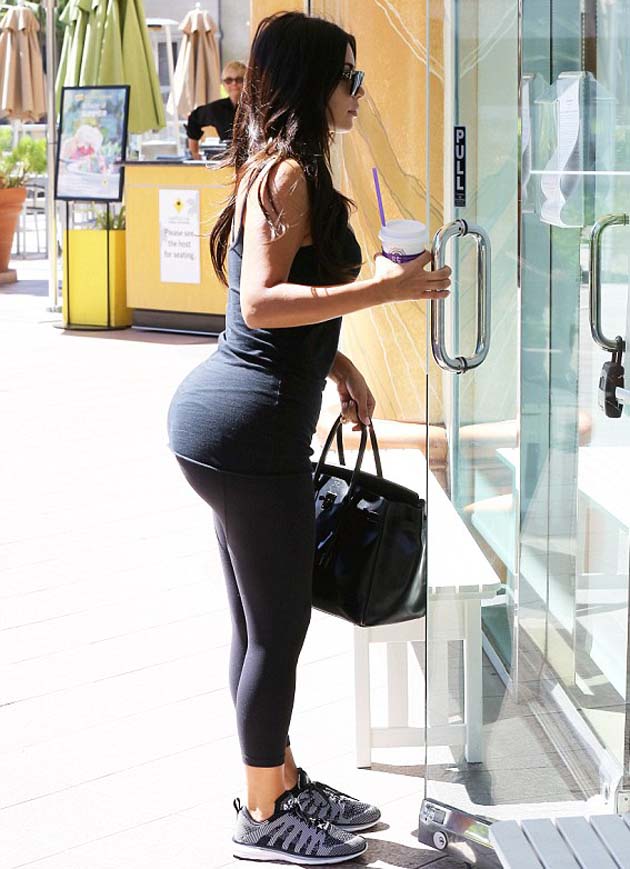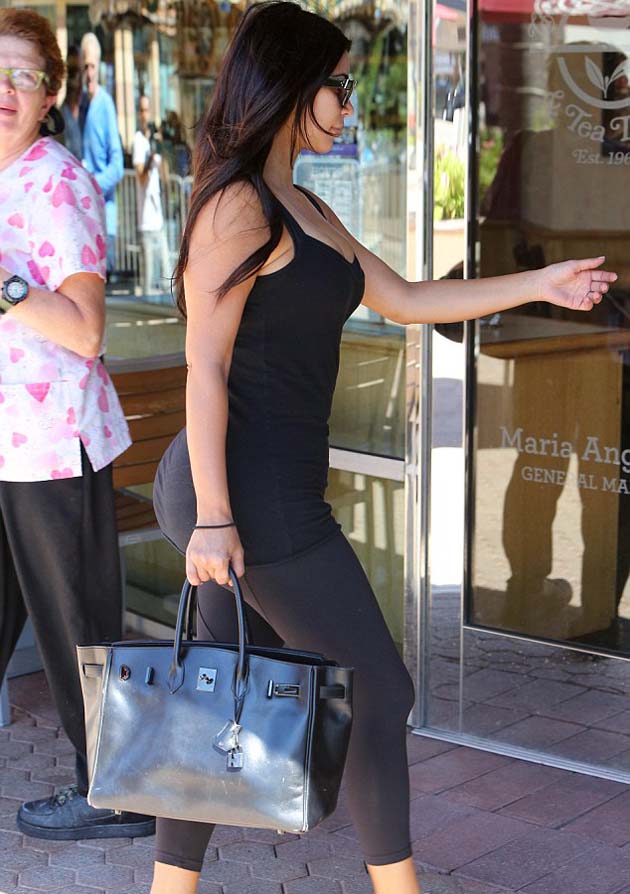 'She feels like she's reached her goal weight now,' said the insider. 'You can tell she slimmed down.' In early August, Kim went on a Twitter rant where she complained she couldn't lose the 'last 15 to 20 lbs of baby weight' after giving birth to daughter North West over a year ago.
[contentblock id=3 img=gcb.png]
The daughter of Kris Jenner added, 'I'm not gonna call it baby weight bc thats an excuse. I just gained weight & that's it. Why is it so much harder to lose after baby though!!… ughhhh my hips & butt are huge now! They were big to begin with!'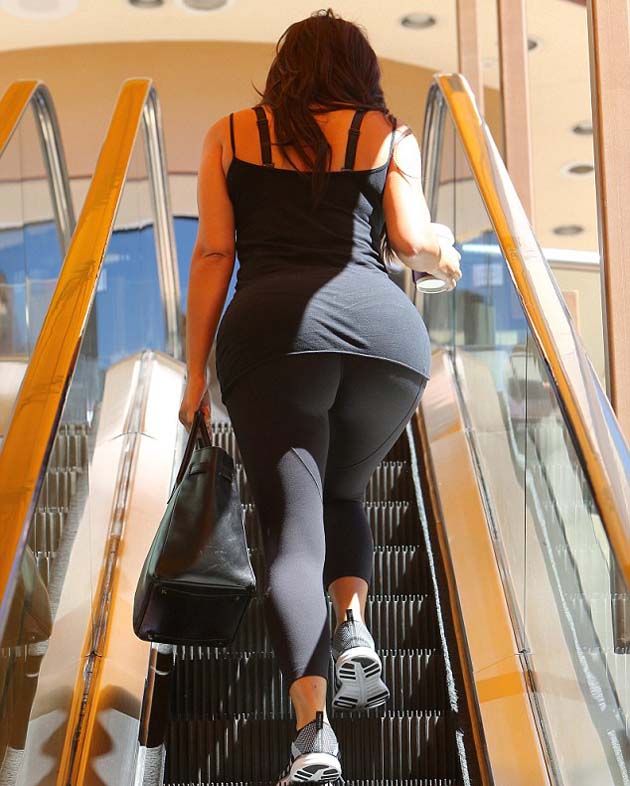 Meanwhile, Kim enjoyed a romantic date with husband Kanye West on Wednesday night. The reality star showed off her feminine curves in the tight long skirt and long-sleeved white top, which featured a cut-out on the back and sides. Kanye was dressed down in jeans, a white T-shirt and red plaid shirt paired with grey suede boots. The pair were seen leaving The Little Door, which calls itself 'the best romantic restaurant in LA.'