Melissa is one of the successful actresses of US who are known at international level for their exceptional work in the field of acting. She has showed her acting skills in television shows and in films as well. Melissa Fumero is famously known for her role in "One life to live" which was started in the year 2004 right after her college.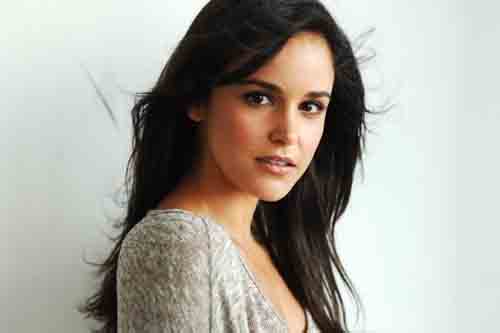 Though she hasn't done a bundle of projects since then, but she got famous for her acting readily. Melissa is a married star who loves to read and dance. She also likes going theater and she pays much attention on her acting career to touch the horizons of great success.  
Personal life: The charming lady was born on August 19, 1982 in Lyndhurst, New Jersey. Her parents basically belonged from Cuba, but they moved to United States as teenagers. She has done Bachelors in Fine Arts Drama from New York University in December 2003. She got married in December 2007, with her co-star David Fumero in "One Life to Live". Today, both of them are spending a happily married life.  
Career beginning: Melissa Fumero has started her career in acting after her graduation in 2004. Her first television series was "One life to live" in which he has played a role of long-lost daughter of Dorian Cramer Lord (Robin Strasser) named Adriana Cramer. Melissa quit the show and did not renew her contract in 2007, but he remained as a part of the show just to finish the storyline. She again joined the show in 2008 to complete 15 episodes of the series. In 2010, she has been seen as a guest just to support the character of the show named Kelly Cramer.
Television Career: There are a number of television shows in which Melissa has showed her skills of acting. Her second TV show was The Gossip Girl in which she acted as Zoe in 5 episodes. She was also known as head bang girl. Melissa also acted in Haute & Bothered (2009), the mentalist (2010), CSI: NY, Men at work (2013), Royal Pains (2011). Among all of her television shows, Melissa's best role was in day time drama i.e. "One life to Live".
Film career: Melissa Fumero did acting in several films. She has earned a great fame during her acting career so far. Her first film was released in 2007 named "Decent" in which she played a role of drom girl number 2 and the movie was thriller by type. In 2009, Melissa appeared in a comedy movie named "I hope they serve beer in hell". In the same year, she did a lead role in the film named tiny dancer. She played several small roles in a number of films that has added to her success. Melissa is looking forward to rock in Hollywood in future.
Physical appearance: Melissa Fumero is a tall lady with short shoulder length black sleek hair. She has oval face with normal complexion. Her dark brown eyes with thick eye brows reveal her bold face look. She has a perfect figure that a model must have. Even after her baby, she maintained her personality and figure to remain in the heart of her fans.
Melissa Fumero was nominated for ALMA (American Latino Media Arts) for her outstanding performance in her daytime drama "One life to live" in 2006. This is one of the great achievements for her that made her famous in the whole United States. She is not doing many movies or series but she is trying to make her rank good among the Hollywood actresses. She is currently working is Fox comedy series Brooklyn Nine –Nine. Her comedy skills are also exceptional that is why she has a huge number of fans in the whole United States. She is living a well balanced life and a happily married life with her husband David Fumero.