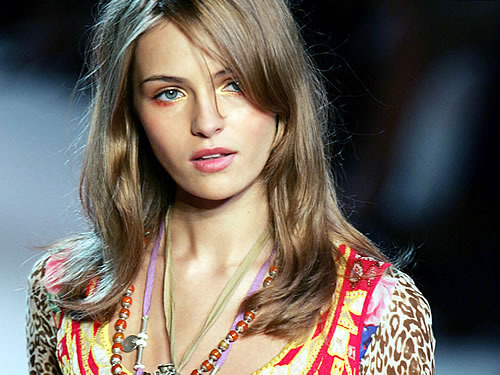 Russian beauties have left their mark all over the world. Russian models, divas and actresses have been known to sow their seeds of popularity in every corner of the world and are widely respected and appreciated for their spectacular beauty and charming styles. Even in the fields of sports, Russian players are some of the most beautiful athletes there are and can be easily spotted out from the crowd. A model, who came in the fashion industry not long ago but had made quite a name for herself in a very little span of time, the very charming Valentina Zelyaeva.
Born on October 11, 1982 in the heart of Russia, Moscow, Valentina Zalyaeva was the first child and the eldest daughter of a newly married young couple. Her father served the Russian army and her mother was graduating at the time of giving birth to Valentina. Valentina's mother has long aspired of becoming a teacher thus she went on to college to complete her studies.
Appearing on the covers of Ralph Lauren, Calvin Klein, Coach, Tommy Hilfiger, Elle, Harper's Bazaar and many more, the beautiful model never had any plans of following a career of becoming a model unless she was persuaded by an agent when she was on her way to her university at the age of 16. Though she refused the offer then but later went on to compete in a modeling contest on the persuasion of her friends. Though making it to the final stages of the competition and having come across hundreds of other girls and women, Valentina had made her impression. She was then spotted by a jury member and was sent to Japan.
Valentina learnt a lot in Tokyo, having stayed there for 2 years. In this time she worked for a lot of brands and advertising agencies, gaining experience and learning the traits from fellow models. She made a lot of contacts and clients across Japan and got famous in a very short time due to her performance and quality of work.All that time, she was working for herself and to support her family. She knew that she has begun her professional life and it is now the time to take a step ahead. For this, she knew that New York is her next destination.
The charming blue eyed blonde then packed her bags and with the support of her family and her modeling agency in Japan headed straight for the New York. She had known of the place being rough and rigid for those who are new to it but her determination and passion in the field didn't stop her from taking this step and proving her abilities. It can indeed be one of the biggest supports to her career when she got into the Ralph Lauren Campaign of 2003. Amidst all the people and clients she was looking to in the city, the campaign just took all of her attention and she opened up Ralph Lauren Fashion show and became the face of Ralph Lauren ever since.