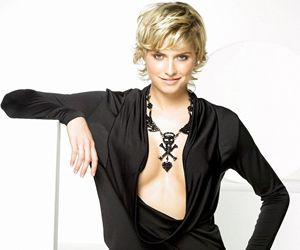 Lena Johanna Gercke who is better known in the fashion and television world as Lena Gercke or the 'Leap Year Baby.' Lena Gercke was born on 29th February, 1988 in Marburg Germany and grew up in the town of Cloppenburg. At that time nobody knew that she was destined for fame.
[contentblock id=1 img=adsense.png]
Lena Gercke got her first taste of the fame in the age of 16 when she won the casting call for the very famous fast food brand 'Burger King' in 2004. Soon after that Lena Gercke started to climb the stairs of fame in the world of glitz and glamour. Fashion photo shoots, dance performances and runways came flowing in for her.
Lena Gercke got her true big break when she won herself a spot in 'Germany's next Top Model' 2 years later after her introduction to the fashion world. After wining that competition which was hosted by the famous Heidi Klum, Lena Gercke was signed for the 'OuiSet' fashion label. This was not the only thing.
[contentblock id=2 img=adsense.png]
She also signed a modeling contract with 'IMG Models' in Paris, won herself the cover of June 2006 issue of German Cosmopoliton and also appeared in its American issue, 'Sports Week', Glamour Magazine and was also on the cover of French 'Votre Beauté.' These were not the only achievements of Lena Gercke as she also managed to catch the attention of Bill gates and signed an advertising contract with 'Microsoft' for 'Windows Live.' Lena Gercke not only grabbed the attention of the fashion lovers everywhere but also managed to get the attention of technology loving nerds. This does not end here. The Swedish retail clothing company 'H&M', fashion company 'Mexx' and Italian shoe brand 'Geox' also featured Lena Gercke in their printing campaign and in 2010 she also walked on the New York's Fashion Week's runway for  'Custo Barcelona's spring collection.
Moving on with her career, Lena Gercke also did television hosting while being closely associated with Germany's Next Top Model. Lena Gercke made a guest appearance in Cycle 2 of the even while was the backstage host of Cycle 3 and 6. Furthermore Lena Gercke hosted Austria's Next Top Model playing the same role as Heidi Klum in the cycle 1 Germany's next Top Model which gave the most fame to Lena Gercke. Speaking about Heidi Klum, Lena Gercke is said to be Germany's hottest export since Heidi herself.
[contentblock id=3 img=gcb.png]
These were some of the highlights of Lena Gercke's career but let's get personal with her. Yes yes I know how much you want to know about the hobbies, likes, dislikes and her personal life. Well now I won't keep you waiting so let's start.
Dancing is Lena Gercke's main hobby. She just loves to dance anywhere club or school. She also got her first model assignment after a dance project Independence by Christine Witte performed at Cloppenburgur Dance Night. Other than that Lena Gercke also loves shopping and jogging to keep her physically fit.
Now for Lena Gercke's likes and dislikes. To her music is another passion and according to her, life without music is dull and boring. She loves almost all kinds of music genres. Lena Gercke likes to all sort of delicious foods especially the ones which her mother makes. Potato pancakes, hamburgers, French fries and even chocolates are her favorites.
Lena Gercke dated US5-Boyband's member Jay Khan till December 2009 while now she is in a relationship with the famous football player Semi Khedira who plays for Real Madrid and it seems that Lena Gercke and her boyfriend Semi Khedira can't keep their hands or lips away from each other.
Lena Gercke recently celebrated 50 Years of Mini Skirt with EBay and appeared on the cover of American JCK magazine's June 2012 issue.