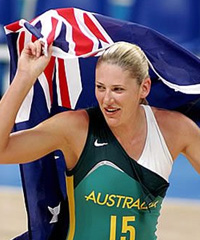 Lauren Jackson
is an amazing athlete. Before her 20th birthday, she managed to become the No.1 overall pick in the 2001 WNBA Draft. Jackson is blessed with some pretty good basketball genes. Her mother played for Louisiana State and averaged 27.7 points and 16.4 rebounds a game in 1977.
She was also a member of the Australian National Team. Her father was a National Team member and her parents met playing basketball for their country. Jackson began playing when she was five years old and it was clear she had found her calling.
It is important to note her parents did not force the game on their daughter. They made it clear she should play because she wanted to, not because they had. In an age where so many parents live through the sporting careers of their children, it was nice to find out this was not the case with Lauren Jackson.
She plays the game with great focus and intensity. Her skill and athleticism are unmatched. She has shown the world she wants to be the best she can be. Leaving her native Australia for the WNBA was a statement in itself.
Jackson could have continued to dominate the WNBL and stayed close to home in the process. But she chose to explore her options in the most competitive women's league in the world. The city of Seattle is lucky to be witness to Jackson as she takes her game to the next level.