Leona Lewis was born in London Borough of Islington in April 3, 1985. From a very early age she began training for a musical career attending performing arts academies for her education. Leona Lewis wrote her first song at the age of 12 and won her first talent show at the age of 13.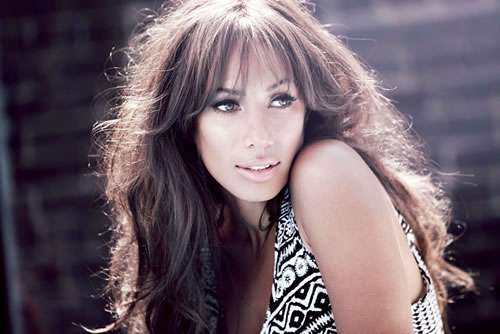 Lewis credits big powerful kind of singers, Whitney Houston and Mariah Carey as her major influences in music and lots of the songs.
Music Career of Leona:
1-X Factor:  Her fans watched Leona's journey to stardom on television each week in the third series of The X Factor, a British talent show executive-produced by American Idol's Simon Cowell, who is also a judge. She won the December 2006 competition handily, stunning the notoriously critical Cowell into silence who said: 'I think she's one of the best singers we've seen in this country for a long, long time.'
2- A Moment Like This: Her debut single, a cover of  Kelly Clarkson's "A Moment Like This", was released on CD on 20 December 2006, and was available as a digital download from midnight on 17 December. Made music history when her debut single was downloaded 50,000 times in just 30 minutes. On 24 December, "A Moment Like This" was crowned the 2006 UK Christmas number-one single, Selling over half a million copies in its first week, the song outsold the rest of the entire top 40 in the UK combined in its debut week.It stayed at number one for four weeks and stayed at the top spot in the Irish Singles Chart for six weeks.
3-Spirit: In 2007, her debut "Spirit" entered the album chart at Number One and became Britain's fastest-selling debut of all time. Spirit's lead-off single 'Bleeding Love' co-written and produced by OneRepublic frontman Ryan 'Alias' Tedder claimed the Number One spot for seven weeks, and the album sold over 1 million copies in the UK in just 5 weeks. , Spirit has surpassed the 2.5 million sales mark and debuted at No.1 in Germany, Switzerland, Austria, Australia, and New Zealand. It was released in the United States in April 2008 and entered the Billboard 200 at number one, making Lewis the first British artist to reach number one with a debut album.
4-Echo: Lewis's second album, Echo, was given a worldwide release in 9 November 2009. Lewis worked with Ryan Tedder, Justin Timberlake, Max Martin, John Shanks, and Harvey Mason, Jr. amongst others to produce the follow-up to her debut album Spirit. Lewis described the album as "more guitar-driven" compared to Spirit. Echo reached number one in the UK Albums Chart.The album was preceded by the single "Happy", peaking at number two in the UK and reaching the top ten in Austria, Belgium, Germany, Ireland, Japan and Switzerland.
5-Glassheart and fourth studio album: Lewis began work on her third album, titled Glassheart  shortly after she had completed The Labyrinth tour.Though originally announced to be released on 28 November 2011 in the UK, it was eventually released in October 2012.Lewis described Glassheart as energetic, deep , unique and said it would have a darker tone. In February 2013, Lewis left her management, Modest! Management. It was announced that she will begin work on her fourth studio album and it will be released later in the year.
AWARDS:
Lewis has received nominations in a variety of award functions, including seven nominations for BRIT Awards, three nominations for Grammy Awards, three MOBO Awards, five MTV Europe Music Awards and two Teen Choice Awards. Her debut single, a cover version of "A Moment like This", gave Lewis her first award wins, an Ivor Novello Award for Best Selling British Single. Her international breakthrough single, "Bleeding Love", has received five awards from 11 nominations. Spirit has won two awards from five nominations. Overall, Lewis has received 12 awards from 30 nominations.
Indeed Lewis' passion for singing comes through loud and clear and one of the modern breed of pop singers.