She has worked tirelessly on her physique, and as well as reaping the physical benefits, she's also got confidence in buckets. And Gemma Atkinson couldn't have looked more comfortable in herself as she soaked up the sun in a sexy pink bikini on a recent holiday in Marbella, Spain.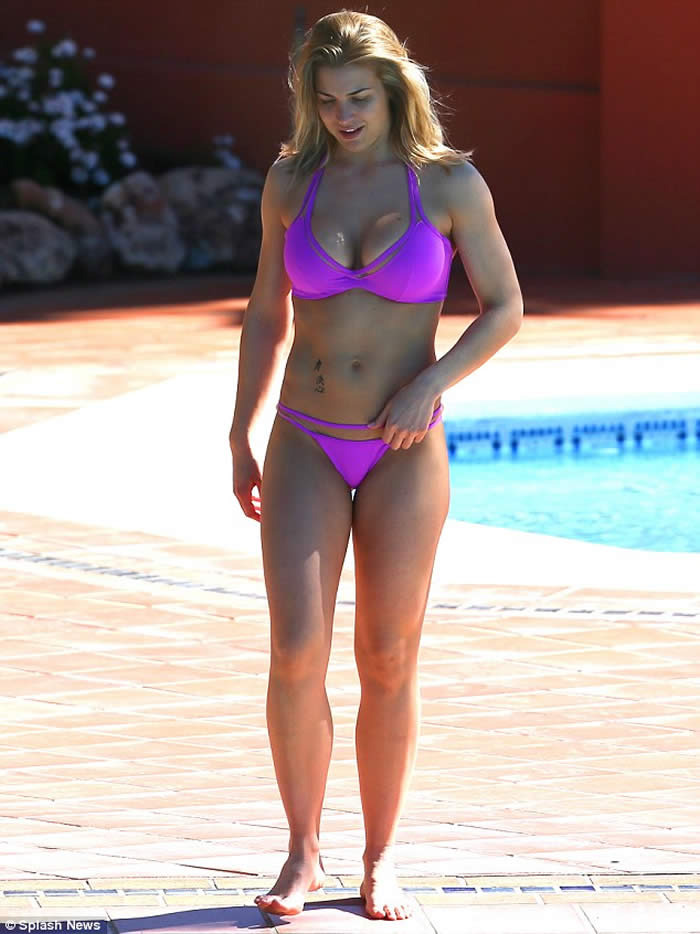 The 31-year-old pin-up looked gorgeous as she rocked her bright swimwear, showing off her enviably toned and yet still curvaceous figure while taking a dip in the pool. Chilling out poolside, the Emmerdale actress – who recently revealed she weighs 11 stone – made sure that almost every inch of her honed body was on display and catching the rays. Her stomach was flat as a pancake, complete with definition – the result of hours upon hours of ab exercises and a clean-eating plan – while her famously ample breasts almost threatened to spill out of her strappy bikini top.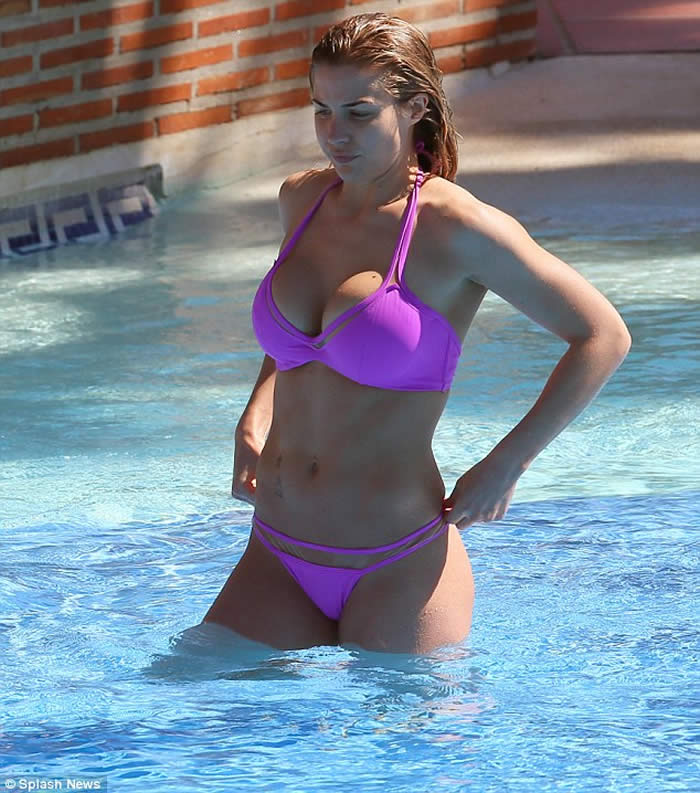 Cut in a halter-neck style, the bra-style swimwear pushed the model beauty's cleavage up high, showing that although she has become a bit of a lean queen in recent years, she hasn't lost her bust. The bikini briefs were incredibly racy, complete with an additional strap cutting along her svelte hips and allowing her to display almost all of her smooth, peachy derriere as she walked around the pool.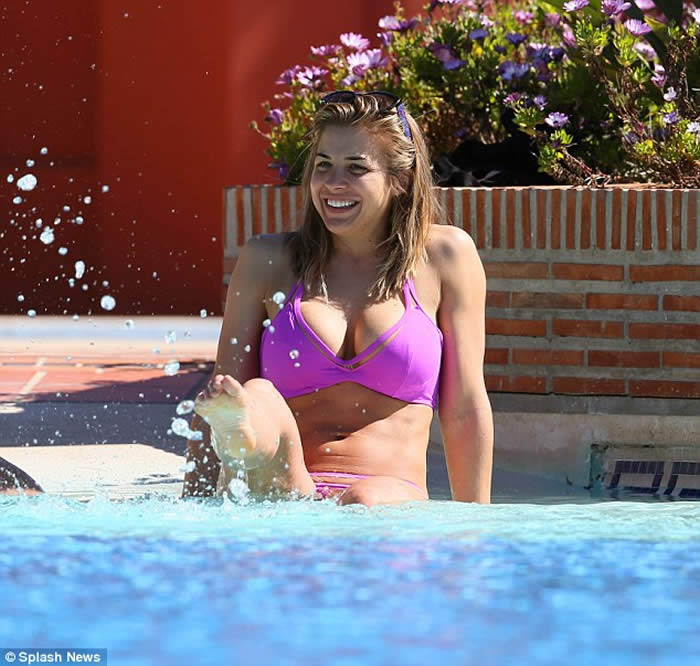 Gemma's whittled waistline and lithe limbs looked sensational as she strode in and out of the cool, azure water while chatting to a pal on her idyllic Puerto Banus retreat. Adding to the allure of her beachy look, the soap star's blonde locks were worn loose and she appeared to be going make-up free, her natural beauty shining through without the need for cosmetics.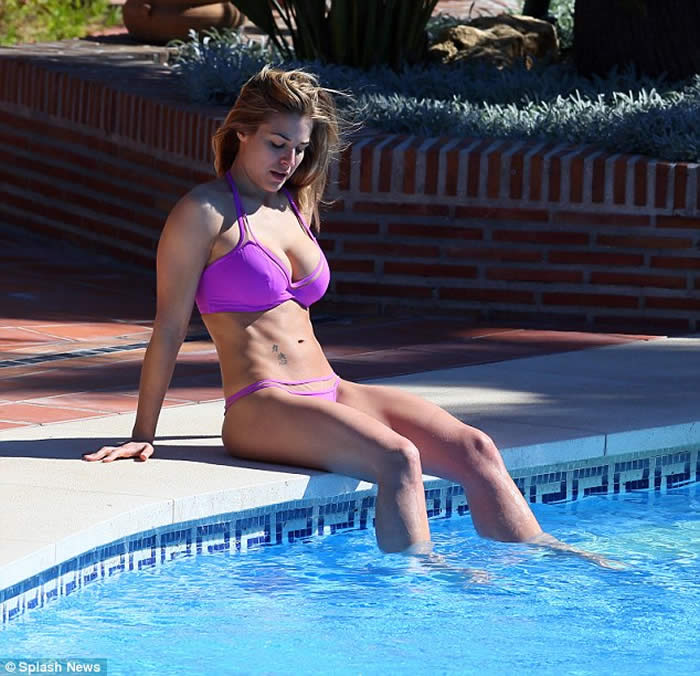 And the fuchsia shade of her eye-catching swimwear suited her tanned skin and golden locks to a tee. While in Marbella, Gemma enjoyed herself as she spent time at a health and fitness retreat, and it certainly appears to have done her the world of good. Meanwhile, the former Hollyoaks star – who was a lads' mag regular back in her younger days – recently opened up about the scrutiny over her figure, which looks markedly different from way back when.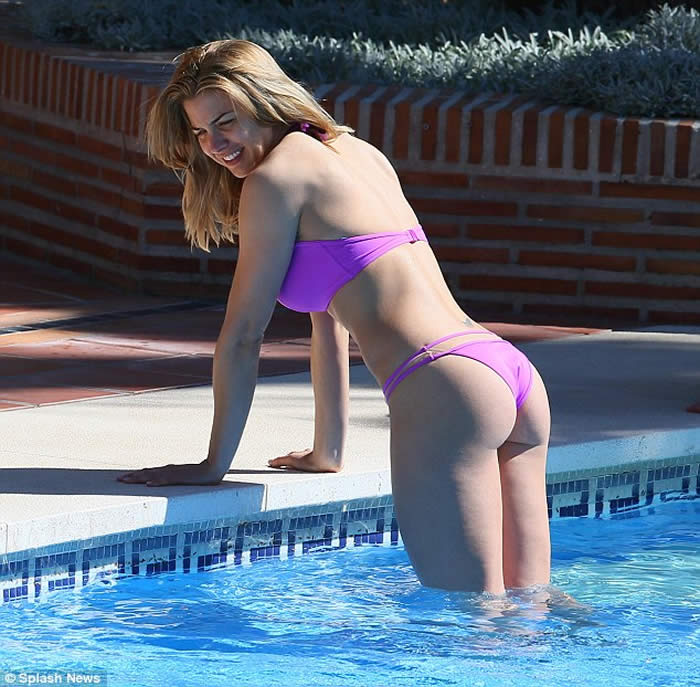 In an interview with The Mirror, Gemma confessed she is always asked about her weight, and if she can truly be happy at 11 stone. 'I remember telling someone and they couldn't believe I was that weight,' she told the newspaper. 'But I am 5ft 9in tall, have big thighs and I'm broad – from "good stock" as my granddad would say.