Christina Hendricks was born on May 3, 1978 in Knoxville, TN, Hendricks was raised by her British-born father, Robert. Her father worked for the United States Forest Service, and her mother, Jackie, was a psychologist.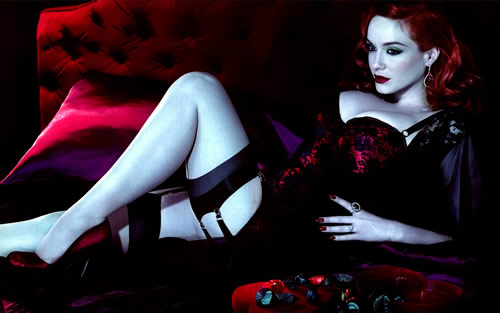 Twin Falls was space where she spent her early childhood, but relocated herself to Fairfax, VA during her teen years, this is where her mother encouraged her to take part in school plays. It was not far off when Hendricks started taking an interest in  acting, landing parts in the Junior Musical Playhouse productions of "Bye Bye Birdie," "The Best Christmas Pageant Ever," "Joseph and the Amazing Technicolor Dream coat," "All My Sons" and "Jesus Christ Superstar. "After finishing her high school she took up a career in modeling.
Before setting her sights on acting, Hendricks graced the pages of magazines such as Elle and Harper's Bazaar. After success in modeling, Hendricks got a chance to appear in a number of commercials for TV and soon made her television debut in the television movie "Sorority" (1999). She continued impressing people with her acting skills and she quickly landed small roles on MTV's "Undressed" (1999-2002) and the cult "Buffy the Vampire" spin-off, "Angel" (The WB, 1999-2004). It was 2000 when she appeared for her first recurring role in 2000, Hendricks portrayed career-climbing intern Kelly Kramer on Showtime's short-lived showbiz satire "Beggars and Choosers" (1999-2001).
Then the time came when Hendricks continuously appeared  in a number of memorable guest appearances, portraying a battered housewife given refuge by Maura Tierney on "ER" (NBC, 1994-2009) and a seductive con artist who wreaks havoc on the crew of Joss Whedon's "Firefly" (Fox, 2002-03). In 2004 Hendricks got a chance to get her first regular role on a television series, she portrayed attorney Nicolette Raye opposite Taye Diggs on the courtroom drama "Kevin Hill". Despite the series receiving reviews but it slid in ratings after its first season and failed to be renewed.
Hendricks received huge appreciation after appearing in acting AMC's critically acclaimed original series, "Mad Men" (2007- ). Many argue that it was her breakout role which earn her great respect and pushed her career in right direction.
Marriage and Relationship:
Hendricks got married to actor Geoffrey Arend in New York City in 2009, although this marriage did not go well with her fans.
Hendricks has few awards in her cupboard. She won her first award in 2006. SyFy Genre Award for best special guest was awarded to her. In 2008 Hendricks received Screen Actors Guild Award for an Outstanding Performance by an Ensemble in a Drama Series.  All of her awards which Hendricks either won or nominated was due to her work in TV series called Mad Men
Christina Hendricks is credited for having an ideal body for a woman. Most of her fans find Hendricks' body a perfect one. Hendricks is often associated as a full figure woman. Fan following of Hendricks have people from all walks of life even some notable politicians have also expressed their likeness for Hendricks too.