Not that there was any doubt, but Victoria Beckham continues to live up to her Posh Spice moniker two decades later. She is known for always wearing sophisticated pieces like trousers, midi skirts, and button-down shirts, but this office-appropriate style doesn't always leave much room for denim. However, she does wear jeans occasionally, and when she does, we definitely notice.
This month, Beckham was photographed in New York City wearing her favorite flared jeans with very similar outfits, confirming her love for uniform dressing. When I took a look back at all of her best jeans outfits, I noticed there were only a handful of denim styles she owns, and she tends to repeat the same ones over and over. Scroll down to shop Victoria Beckham's four favorite denim trends.
1.Flared Jeans
Flared jeans have been Beckham's favourite denim style as of late. She chooses extra-long jeans that hit the ground even when she's wearing heels, which elongates her legs. She likes to dress them up with blazers and structured bags.
On Victoria Beckham: Victoria Beckham turtleneck, blazer, and jeans; Hermès bag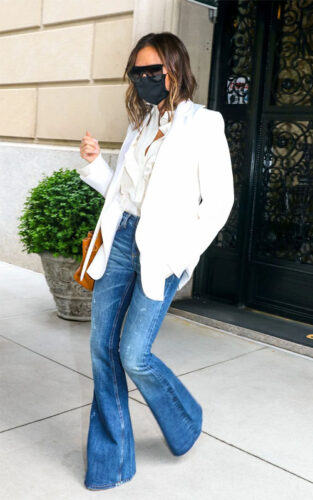 2.Baggy, Rolled-Up Jeans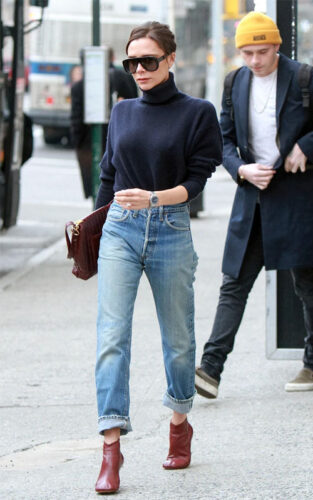 Beckham also has a penchant for loose-fitting jeans, which she always wears with a tucked-in sweater or T-shirt. In true Posh Spice fashion, she ditches sneakers in favor of ankle boots or pumps, which add some polish to her casual jeans.
3.Extra-Long Skinny/Bootcut Jeans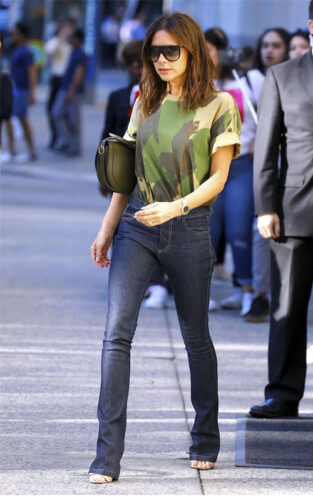 Beckham also loves skinny jeans with a twist. She favors extra-long styles that have a slight bootcut opening at the bottom, which allows the jeans to cover her shoes. In the second image, she's wearing skinny jeans that bunch up at the ankle, which is a cool style tip to try out for yourself.
On Victoria Beckham: Victoria Beckham shirt, jeans, and bag; Celine sunglasses; Manolo Blahnik shoes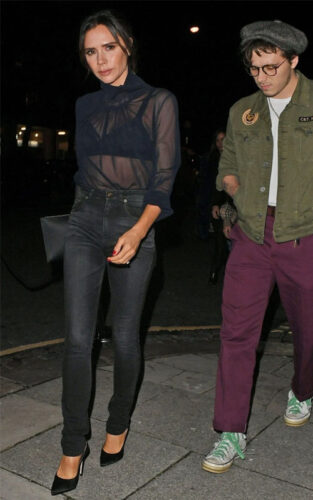 5.Low-Rise Jeans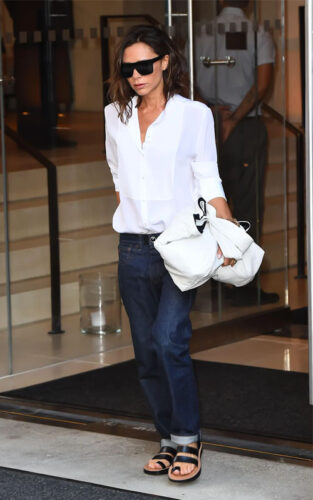 Last but not least, Beckham has shown that she can pull off low-rise jeans with ease. She likes to wear hers with a classic, crisp white button-down shirt to add a timeless element to the controversial denim trend.