She always looks red carpet ready and actress Blake Lively has stolen the show at the 67th annual Cannes Film Festival for the second day running. The gorgeous girl headed out to the premiere of new Mike Leigh film, Mr Turner on Thursday evening, a beautifully shot biopic about the famous British painter, played by Timothy Spall.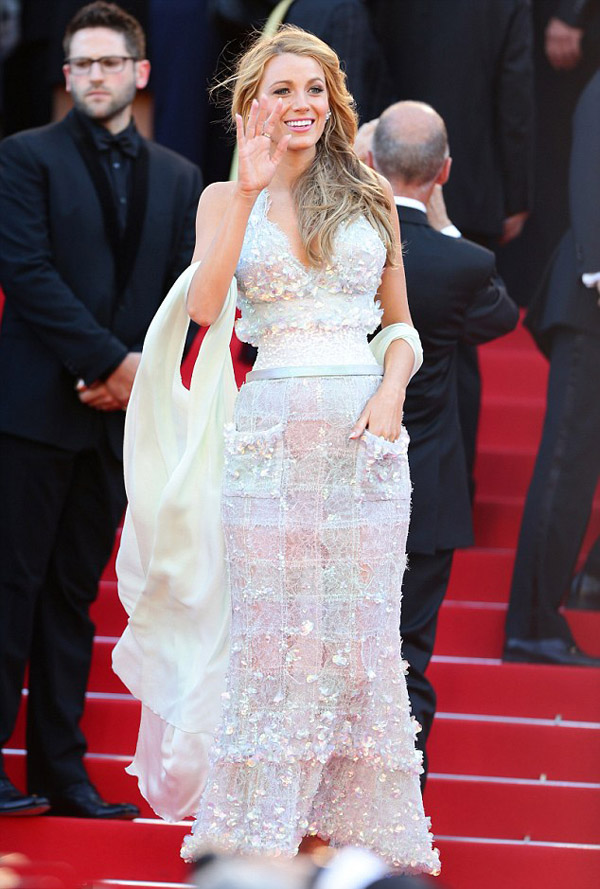 The 26-year-old looked incredible in a white sequined Chanel dress which cinched her in at the waist and showed off her slim figure. With a plunging neckline and a fishtail hem, the dazzling number was sure to make her stand out from the crowd. Accessorising with a chiffon scarf draped over her arms, Blake Lively who is the ambassador for L'Oreal Paris, polished off her look with jewellery by Lorraine Schwartz. She wore over a million dollars worth of diamonds including a pair of 30 carat diamond flower earrings. Giving herself some extra inches, the stunning star wowed in a pair of pearlescent Sophia Webster court shoes. Waving to the hoardes of fans who waited outside to catch a glimpse of the star, Blake Lively also spent a short while posing for photographers, with her hands in the pockets of her designer gown.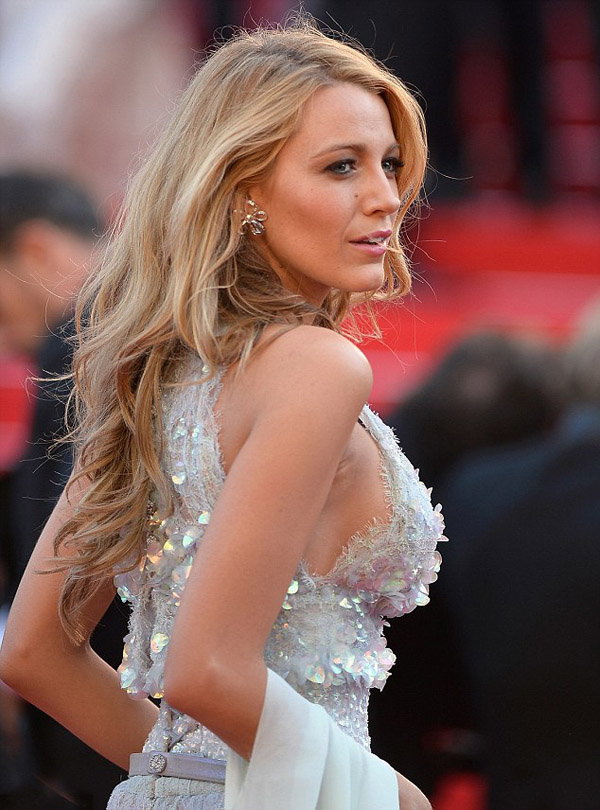 Wearing her hair in loose tousled curls and with the most minimal of make-up, the actress let her natural beauty shine though. The festival is likely a welcome break for Blake Lively as she has been busy filming Age Of Adaline in Canada. The wife of Ryan Reynolds plays Adaline, who is born at the turn of the 20th century but stops aging after recovering from a near-fatal accident. Over the century, she embarks on an epic but isolated journey, until she meets a man for whom 'it might be worth losing her immortality'. Blake Lively stars in the 2015 film opposite Harrison Ford, Ellen Burstyn, and Game of Thrones star Michiel Huisman. Meanwhile, the Telegraph newspaper gives Mr Turner high-praise indeed, saying: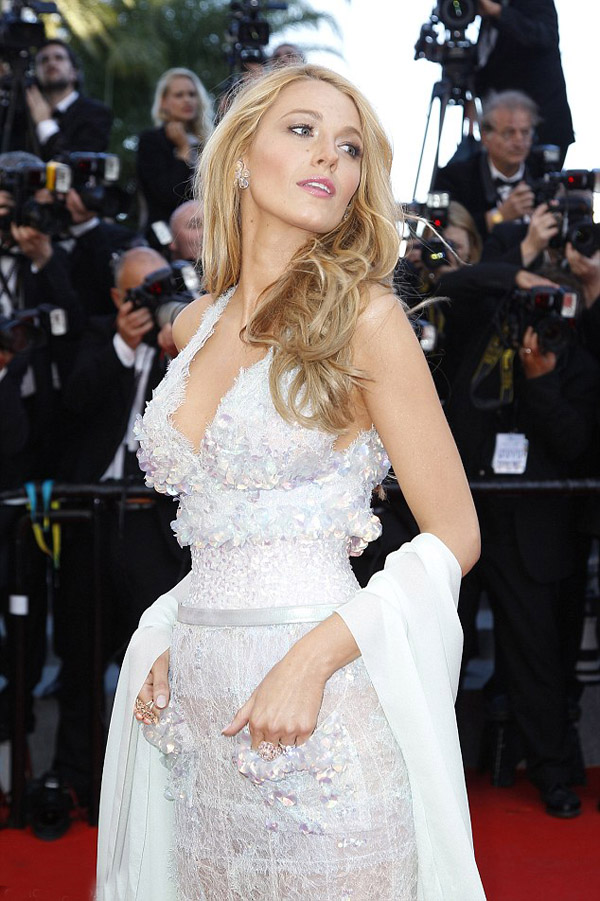 'Turner is played by Timothy Spall, who gives what's probably the finest performance of his career. 'The equal, at least, of his role in Leigh's Secrets & Lies, which won the Palme d'Or here at Cannes 18 years ago. 'He coughs and shambles about the place like a moulting, phlegmy Gruffalo, eyes bright and hungry, bottom lip jutting proudly forward like the spout of a custard jug.'Also in attendance at the prestigious event was actress Julianne Moore, 53, who wore a burgundy leather top tucked into a bias cut monochrome floor-length skirt. Blake Lively was soon joined by Zoe Saldana, 35, who looked lovely in a black and peacock green dress made out of a combination of velvet and chiffon.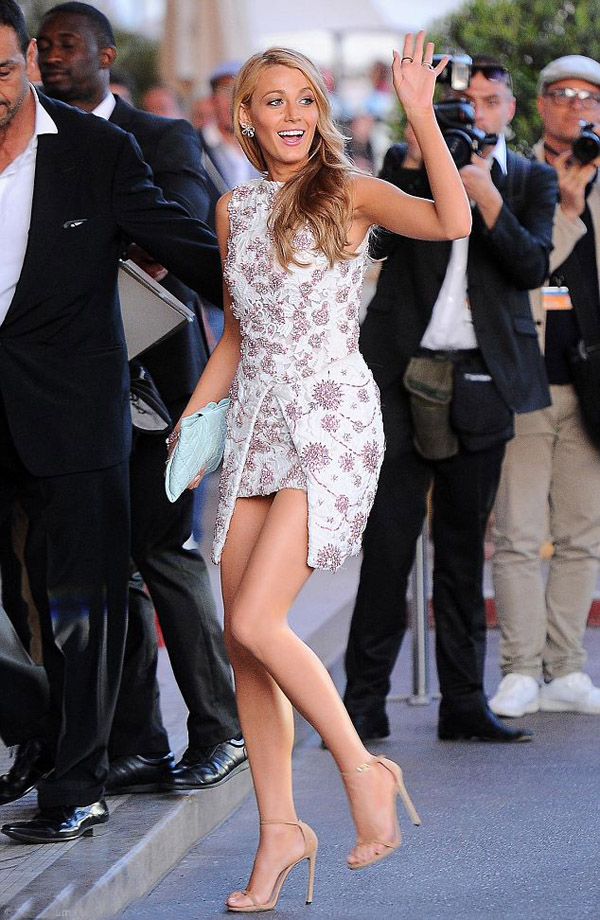 The Avatar actress looked a little uneasy as she navigated her way towards the venue wearing a sky-high pair of black peeptoe heels which were at rick of getting caught in the train of her dress. Zoe showed off an Arabic tattoo on her ribcage which trailed around her back – and could be seen through a cut-out section of the dress – Blake Lively has another on her foot. She arrived in the country with her husband Marco Perego on Tuesday – and they looked incredibly loved-up.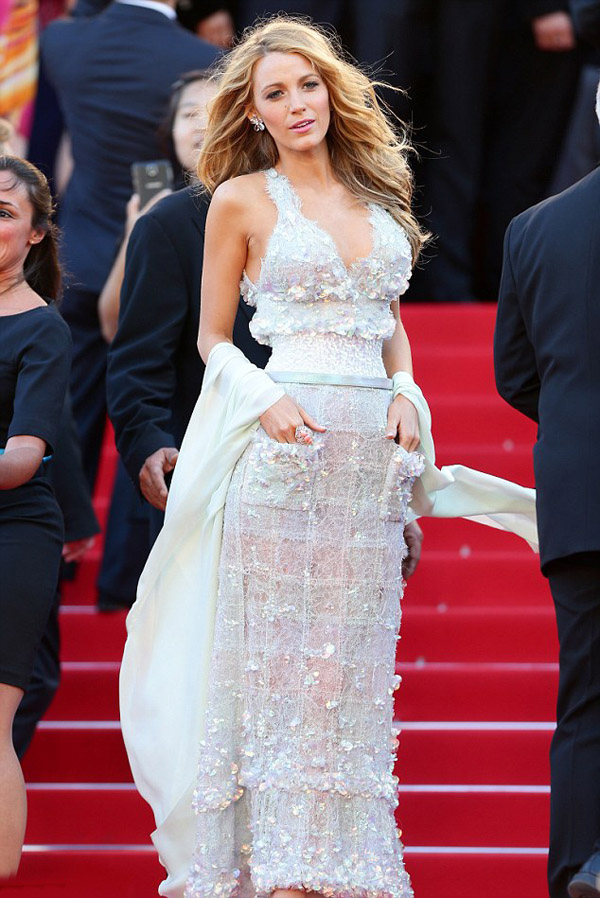 The actress portrays Rosemary Woodhouse in the television adaptation of Ira Levin's 1967 horror novel of the same name, but the new TV movie suffered a disappointing opening. Man of the moment, Timothy Spall looked as proud as punch as he giggled on the red carpet alongside British actress Dorothy Atkinson, who also stars in the movie. He looked smart in a suit, topping off the look with two-tone black and white shoes as he posed with several cast members and director Mike Leigh. Earlier in the day, he and the rest of the cast attended an informal photocall by the water side.