American actress and singer Miley Cyrus has won the hearts of her fans with a heartfelt letter on the 15th anniversary of the Disney Channel show – Hannah Montana.
Taking to Instagram, the Plastic Hearts singer posted a two-page thank-you letter to her former on-screen alter ego, with an insightful look at the long journey of triumphs and heartaches.
Sharing her memories in the hand-written letter with Hannah Montana written on the head of the paper, the 28-year-old actress said, "It's been a while. 15 years to be exact."
Cyrus penned down, "Since the first time I slid those blonde bangs over my forehead in the best attempt to conceal my identity. Then slipped into a puke pink terry cloth robe and a bedazzled HM over the [heart]."
The Hannah Montana show premiered on March 24, 2006. The show had four seasons. Miley Cyrus played a spunky middle-schooler Miley Stewart, who leads a double life as a pop star named Hannah Montana.
Her father, country star Billy Ray Cyrus also starred in the show along with Emily Osment, Mitchell Musso, and Jason Earl Jones.
Miley Cyrus remembered all of them in the letter.
The singers revealed that Hannah Montana has become a part of her.
"In reality there was a time in my life when you held more of my identity in your glove than I did my bare hands," she said. "We had an equal exchange in which you provided me a superlative amount of fame in return for the anonymity I could gift to you."
Cyrus also recalled the time when she first auditioned for the show. "I couldn't have imagined while taping myself singing 'I Love Rock & Roll' against a white wall in my mom's friend's kitchen in Nashville, TN, the name taped in marquee style letters on the front of a first draft script would make my wildest dreams a reality."
Getting off the ground, Hannah Montana soon became a favourite with masses that led Miley Cyrus to fly high with her first world tour in 2007. Not just that, she also got her own video game series and her own movie, 2009's Hannah Montana: The Movie.
The show's last episode aired in 2011. In the long letter, Cyrus recalled singing the last song and donning the trademark blond wig, saying, "The first verse sings 'Everything is about to change. A chapter ending but the stories only just begun. A page is turning for everyone.' And closes on a soaring chorus belting 'we might be apart but I hope you know you always know you'll be with me where I go.' Hannah, I hope you hear me + believe those words are true."
Reacting to her loving note, the Hannah Montana Twitter account said, "Nice to hear from you @MileyCyrus. It's only been a decade."
Celebrating the Show's 15th anniversary in her own way, Miley sent Joe Jonas and Sophie Turner a huge Hannah Montana-Themed gift.
Taking to Instagram Story on Wednesday, Joe Jonas and his wife Sophie Turner posted videos of Miley's gift of a huge floral arrangement in the shape of a star that displays the show's logo on top of it.
The star was made of the flowers that were arranged in the same colour scheme to match the colours of the show's iconic logo.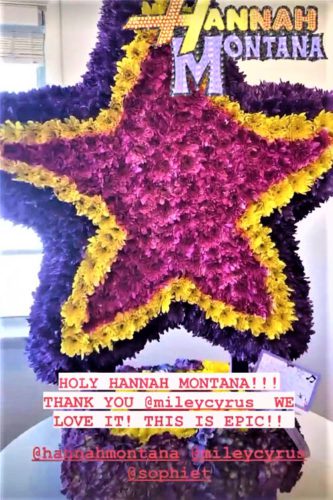 The 31-year-old music sensation, Joe Jonas, wrote on the video in bright colours, "HOLY HANNAH MONTANA!!!" He also wrote "THANK YOU @mileycyrus WE LOVE IT! THIS IS EPIC!!" as the "Best of Both Worlds" played in the background.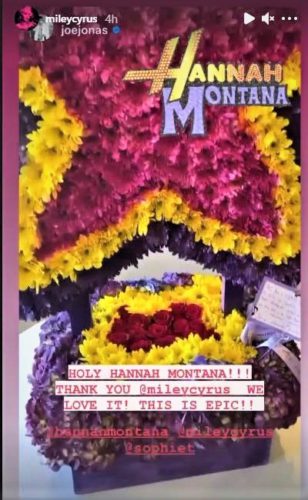 The 25-year-old actress, Turner, also reposted the video and wrote on it "THANK U HANNAH WE U."
Miley also reposted the video from Joe and Sophie's walls on her Instagram Story.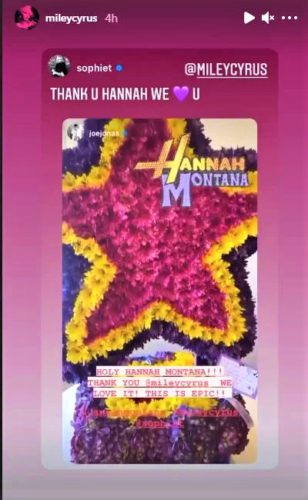 With the cute gift, the 28-year-old singer, Miley Cyrus, also attached a loving note that reads: "To Joe & Sophie! It was so sweet of you to name your daughter after me! Sending all my love to little miss Hannah Montana! Love, Hannah Montana."
Joe and his wife are great fans of the Hannah Montana show. Joe performed in the show in the early days of his career.