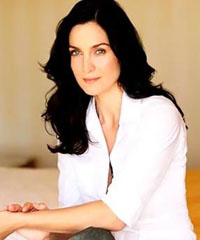 Carrie-Anne Moss was born in Burnaby, British Columbia to parents Melvyn and Barbara Moss. She has an older brother, Brooke. Moss' mother reportedly named her for The Hollies' 1967 hit song, "Carrie Anne". Moss lived with her mother in Vancouver as a child. At the age of 11, she joined the Vancouver children's musical theatre and later went on to tour Europe with the Magee Secondary School Choir in her senior year; one of her classmates was Gil Bellows.
While in Spain, she landed a role in the drama series Dark Justice, her first television appearance. She moved from Barcelona to Los Angeles, California with the series in 1992. She enrolled at the American Academy of Dramatic Arts in Pasadena upon her return. She starred in FOX's short-lived primetime soap opera Models Inc., a spin-off of Melrose Place, as a model.
Her breakthrough came when she was chosen to play the latex-clad hacker Trinity in the 1999 box office success The Matrix. She reprised the role of Trinity in two sequels as well as providing voice-overs for video game and animated spin-offs of the film. Coincidentally, she had previously co-starred in an unrelated made-in-Canada television series also entitled Matrix.
Following the release of The Matrix, Moss starred opposite Burt Reynolds and Richard Dreyfuss in the Disney mobster comedy The Crew for producers Barry Sonnenfeld and Barry Josephson. She then starred with Val Kilmer in Red Planet for Warner Bros. For producer Mark Canton, and next appeared in Miramax's Oscar-nominated film, Chocolat. She then starred with Guy Pearce in the thriller Memento for which Moss earned an Independent Spirit Award for her performance. She voiced the character Aria in Mass Effect 2.
Moss married fellow actor Steven Roy in 1999. They have two sons, born in 2003, and 2005, and a daughter in 2009. Moss has refused to reveal the names of her children in public in order to protect their privacy although her first son is believed to be called Owen. Actress Maria Bello is the godmother of Moss' older son.