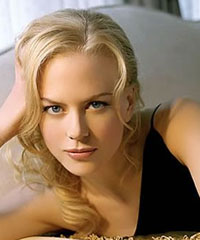 Actress Nicole Mary Kidman Born on June 20, 1967, in Honolulu, Hawaii. Nicole Kidman is one of Hollywood's most beautiful and well regarded leading female stars. At age four she moved with her parents to Sydney, Australia. As a schoolgirl she attended a local theatre group and, encouraged by director Jane Campion, made a notable film debut in Bush Christmas (1983). Nicole Kidman also met one of her best friends, actress Naomi Watts, around this time. The two were at an open call for a bathing suit ad and later worked together on the 1991 film Flirting.
Her U.S. breakthrough came with Dead Calm (1989), and success followed with Billy Bathgate (1991), To Die For (1995), Practical Magic (1998), and Eyes Wide Shut (1999), in which she co starred with husband Tom Cruise. She and Cruise divorced in 2001 after ten years of marriage. They had adopted two children, Isabella and Connor, during their relationship.
While her marriage was ending, Nicole Kidman's career reached new heights. She won a Golden Globe for the portrayal of a Parisian singer and courtesan in Baz Luhrmann's musical extravaganza Moulin Rouge (2001). The following year, Nicole Kidman wowed critics and audiences alike with her performance in The Hours (2002), playing famed writer Virginia Woolf. She received several major honors for her work, including her first Academy Award as Best Actress.
Working with acclaimed director Anthony Minghella, Nicole Kidman starred in the civil war epic Cold Mountain (2003) with Jude Law. She has taken on some less mainstream projects as well, working with director Lars von Trier on the stark drama Dogville (2004). Best known for her dramatic work, Nicole Kidman has also tried her hand at comedy, starring in The Stepford Wives (2004) with Matthew Broderick and Bette Midler and Bewitched (2005) with Will Farrell. She also lent her voice to the light hearted animated film Happy Feet (2006).
Taking on a more serious role, Nicole Kidman starred as legendary photographer Diane Arbus in Fur (2006). The film failed to attract much interest from movie goers. Kidman's personal life, however, drew a lot of attention that year. She had been dating country singer Keith Urban for some time when she announced that the pair had gotten engaged in May 2006. They got married in Sydney, Australia, on June 25. Guests included other Australian stars, such as Russell Crowe, Hugh Jackman, and Naomi Watts.
A few months after their marriage, Nicole Kidman supported her husband as he decided to enter a rehabilitation facility to receive treatment for his problems with alcohol. The couple appeared to be devoted to each other throughout this crisis and seemed to emerge from it as strong as ever. They welcomed their first child, Sunday Rose Kidman Urban, in July 2008.
Nicole Kidman became pregnant while filming her next major film role. Reuniting with director Baz Luhrmann, she starred in the epic drama Australia (2008) with Hugh Jackman. Most recently, Kidman has been working the movie musical Nine based on the Broadway smash hit with Daniel Day Lewis, Kate Hudson, Penelope Cruz, and Judi Dench. The film is set for a late 2009 release.