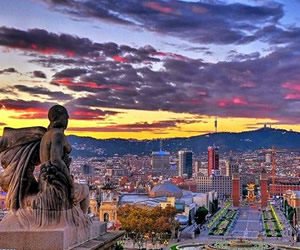 Romancing on higher level demand something more special even especially then when you can afford to take your romance on higher expensive level. And there is no loss to do as it can also help to renew or increase your feelings. So you both are done with decision to have some precious romantic moments on wonderful place then very next question will be "where". Yes No doubt World is full of fantastic and amazing places due to which we get confused where to go?  Why don't you decide to go this time in Spain to get Romantic experience in a sumptuous Palace in Barcelona? Barcelona is favorite place of Couples for the romance from whole around the world not only romantic couples but also the business tourists, the cultural tourists love to go in this world's major global city.
Barcelona is of the leading places today and considered as the most romantic place in world. Barcelona is second largest city of Spain. It is the capital of Catalonia. Barcelona is especially popular among the tourist from the whole the world. You will have amazing Romantic experience in Barcelona when you walk on the historical roads of the Barcelona, the roads are quite peaceful than the rushy hurly roads of other cities.
El Palace Hotel in Barcelona can be mark as true palace on fantastic location. The rooms are sumptuous well decorated. From hotel special flagrance to its cuisine everything is luxurious. Mostly couples like to stay for Romantic Experience in a sumptuous EL palace Hotel in Barcelona. It is just 20 min drive from El Prat Airport. Its beauty cannot be explained in words so go and experience by yourself this 5* Grand Luxury. El palace is also going to launch the Mayan Luxury Spa.
It starts romantic feelings when you enjoy sumptuous soft interior, beds of foam mattresses, and luxurious blankets with artistic lighting. Hotel palace offers different type of rooms; they have different packages like Classic Deluxe Double Room Luxurious decorated with elegance and in a classic style. They also offer one single room in one floor to experience a romance in a sumptuous palace of Barcelona.
Night life in El palace in Barcelona is so fancy, starts from low rate dives to highly expensive designer bars and glamorous clubs. If you wana try to have fancy night with your lover then don't forget to go Barcelona night clubs and enjoy on dance floor with DJS.