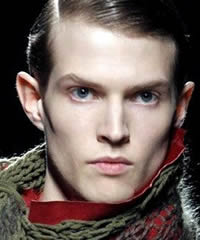 Winter is chilling on its peak and it's time to take a look at you and bring some change in your style, a perfect man is that who never gets influenced by others and always feels more confident and gorgeous in his own personal style, yet it's always good to maintain a subtle balance between your personal style and the newest style trends.
Slicked-back hair
For this fall, hairstyles that evoke the glamour of old Hollywood are a hot fall grooming trend for men. Well, think of Sean Connery's killer style as James Bond and you'll get my point. Yes the slicked-back hair is a hot favorite look this fall! To get this trend right, request a cut from your barber that's short in the back and on the sides but longer on the top of your head. At home, work a pea-sized amount of gel through your mane, then use a fine-toothed comb to slick all your hair toward the back of your head.
Natural Curls
For men with naturally curly hair, this fall it's better to make them shine naturally this fall! Just take care of your tousled tresses by proper conditioning and shampooing to achieve natural strong and shiny locks. The next you go to buy a shampoo, read the labels carefully, selecting one that is specially formulated to define curls. . A moisturizing conditioner is also a must in your fall grooming arsenal. Finally, in order to tame frizz, seek out a shine-enhancing spray or lightweight gel that you can sparingly distribute throughout your mane.
Clean-shaven
Facial hair should be kept to minimum this fall. For the kind of touchable soft skin that drives women crazy, began with a hot water shower to open up your pours, next apply a shaving cream packed with emollients and use a sharp high-quality razor. Don't forget to replace your blade frequently to ensure you're always getting the smoothest shave possible.
Winter Moisturizer
A moisturizer to keep your skin supple and soft is a must for this weather. Skin tends to get extra dry in winter season so the best ones for fall are rick, hydrating creams that are pumped and full of antioxidant ingredients like Vitamin C and also contain high-SPF sunscreen, because even though the sky is cold, your skin is still at risk to get sun damage.
Essential oil perfume
With change in season,
fragrance
is the first thing that should also be changed. So it's time to pick up summer
fragrance
and store it for the next summer! Choose a
fragrance
which evokes the nostalgic feeling of autumn, something natural made with earthy-smelling
essential oils
or anything with sandalwood or Egyptian musk would be good for this
fall
. Plus go for oil-based rather than alcohol-based as the skin tends to get dry in winter and you'll only need a drop or two of oil-based
fragrance
that blends beautifully with your body chemistry to release an intoxicating aroma all day long.