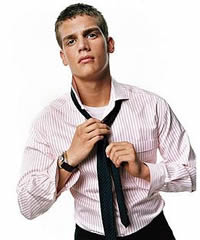 Tie, is one of the essential items of mens fashion. Here are some mens fashion tips which will help you take care of your tie and you will be able to wear it and preserve it for a longer time!
Untie your tie: A very common mistake in this mens fashion era is that once you tie the knot, you would never think of untying it. So mens fashion tip suggests that you untie the knot in a proper manner, by repeating the steps by following it in reverse order. It will help you save your tie, time and money.
Get rid of tie wrinkles: After untying your knot, you will notice that your silk tie looks worn and used, even if you have worn it for few hours. According to mens fashion tip all you have to do is to wrap it around your hand, then put it onto a table or into a drawer and let it rest for a while.
Get rid of tie stains: One of the moments every guy worries about is 'stains' on it. The reason is that stains damage it permanently especially coffee, tea and ketchup stains.
The only thing, which can be the best mens fashion tip, is to take your stained item to a local dry cleaner and ask them for help. While dry cleaning would remove the stains but you will lose the shiny look and feel of it.
So, take care of it while eating food or use a napkin to cover it.