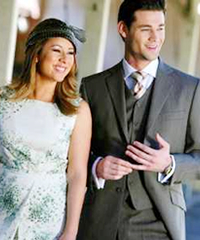 Men do not think that they are handsome, but they are wrong. To be handsome more important is that what you wear and how you present yourself than your physical form. You can also make yourself more handsome by applying charm. You may not be a Brat Pitt, but you can still become just like him. Here are a few different things you can do to make yourself more handsome.
[contentblock id=1 img=adsense.png]
The first thing to learn on how to be handsome is to dress well. You do not have to wear a tuxedo (dinner suit) every day, but by making sure your clothes are clean and ironed you will make you more attractive. Combing your hair and brushing your teeth go along with this and make sure you wear deodorant. By keeping yourself well dressed and organized you will make yourself more handsome.
Here you have some general tips.
If you're tall and slim:
People having slim physique and tall in height should follow the tips given below.
[contentblock id=2 img=adsense.png]
Use horizontal stripes to bulk you up a bit. A single, large horizontal stripe across your chest can be particularly flattering because it will make your shoulders appear broader and will make you look handsome more.
Men's clothes that have large prints such as check shirts can look great on you. That's because a big print casual shirt adds volume to the attire toning down the height.
Choose lighter colors (whites, creams, light blues, light grays, and pastels), they will make you appear slightly larger, and help to visually bulk you up a bit. It looks more handsome with tall height.
If you're not very tall:
Having low height people are suggested to adopt following to be handsome.
Use of vertical stripes in clothing will make you handsome. They will help you add some extra inches visually.
Use dark solid colors, especially black since they visually lengthen the body. The same applies to light or medium-weight fabrics because heavier fabrics tend to make you look bulkier and shorter.
If you're a large guy:
Fatty men can overcome the challenge of being handsome using following tips.
The secret to looking slimmer is to choose clothes that are neither tight nor baggy; your clothes should just skim your body without hugging it too closely.
Use vertical stripes to your advantage too. Stripes should be narrow, not overly wide for the best look. For example, pinstripe dress shirts will look great when mixed with dark jeans or black pants. For casual wear, dark fabric with slim stripes that are made from thin material will be helpful to look handsome.
Avoid T-shirts or dress shirts with large or busy prints. These kinds of prints will draw attention to the upper half of your body, which is something you don't want to. Instead a shirt with a small print that is spaced quite far apart will look much better. So choose prints carefully.