The clamor for a separate men's fashion week had barely died down last season when the first South African Menswear Week was set for February 2015. Envisioned as a biannual event, owner and cofounder Ryan Beswick called SAMW "the first dedicated men's fashion platform in Africa."
[contentblock id=2 img=adsense.png]
Taking his cue from what he regards as the world's leading platform, London Collections: Men, Beswick limited the participating designers to 25 emerging and established names. The event took place over three days during the first week of February at Cape Town's V&A Waterfont. The lineup included well-known industry labels such as Craig Port, Fundudzi by Craig Jacobs, Naked Ape, Maxhosa by Laduma and Palse Homme, as well as new talents like Rich Mnisi of Oath, Lukhanyo Mdingi and fashion editor-turned-designer Chu Suwannapha, who all showed their fall collections.
Beswick also chose intimate show venues and mandated clean, simple show productions so as not to take the focus away from the clothes. Eventually, he would like SAMW to serve as a platform from which leading South African designers showcase in London, both as a drive to build exports, as well as increase awareness for these designers back home in South Africa.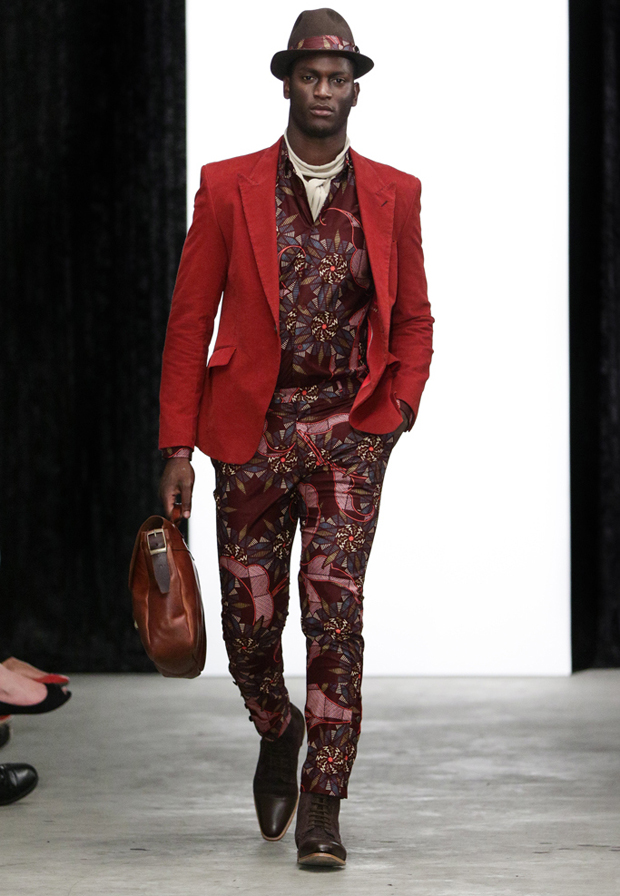 "The time has been right for a men's wear fashion week in South Africa for a few years now," Beswick said. "Men's fashion and grooming is growing considerably every year. Men care about the way they look and are taking care of their bodies. Look, 30 years ago, a man using aftershave was considered a man who takes care of himself. Nowadays, there are entire skin-care and even makeup ranges for men."
[contentblock id=3 img=gcb.png]
Nikki St. Quintin of Bastion Menswear said, "Men buy differently from women. This is something I have learned working at markets. Men are very specific and calculated in their purchase choices. They have a clear idea of what they are looking for and very practical. They seem to very rarely impulse buy, unless it's a small, inexpensive item."
Which is exactly why Beswick felt men deserved their own fashion week. "The whole problem with other events from a men's wear point of view is that the existing fashion weeks are focused on women. That results in attendees being interested largely in women's wear. To sell men's wear and to get all the key role players there, you need a focused event. For the designers it is about selling their clothes and their brands. They won't advertise in a women's magazine, so why should they focus their marketing attention on women?"
As a designer who has occasionally included men's wear in his shows, Craig Jacobs of Fundudzi presented his first men's wear collection at SAMW. "The Fundudzi woman has always been at the center of the Fundudzi world, but it has been fascinating that men have been coming to me, asking me to provide them with garments with the same aesthetic but with more masculine tailoring. It's all really happened by osmosis and for me that is the right approach to have. I prefer growth to take place organically."
There are very few men's wear-only boutiques specializing in local designers, and a buyer culture still needs to be developed for this segment of the market.
[contentblock id=1 img=adsense.png]
"I have not heard from buyers yet at this point," said Mdingi, who showed a collection inspired by the Arabic macramé knotting technique. "But production is currently taking place and will be sold at this year's Design Indaba at the end of February as well as Akedo online from March."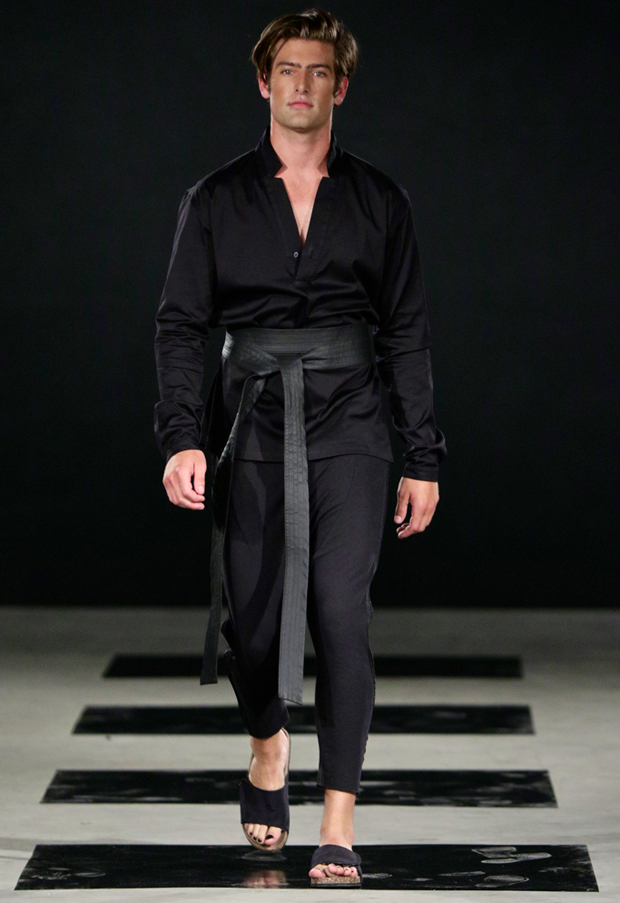 St. Quintin said that response from buyers for Bastion have so far been "mostly verbal feedback, online exposure or online inquiries for where to purchase items, and a few want us to start stocking markets and going online."
Bastion's retail prices are relatively accessible, starting at around 350 South African rands ($30) for T-shirts and 550 rands ($47) for pullovers, going up to 750 rands ($65) for pants and 950 rands ($82) for jackets.
"Production lead times really depend on order quantity and availability of fabrics, as well as how busy our CMT is, but anything from one to three weeks is a fair guesstimate," he added.
Magents, an Afro-vintage label beloved by South African hip-hop, kwaito jazz and house musicians, made a return to the runways via SAMW after an absence of seven years. Said creative director Didier, "We haven't had any buyers' feedback regarding orders as we do not utilize the show for sales; most of our buyers are in Johannesburg." Unlike many of the designers who showed at SAMW, the Magents collection will only be delivered in 18 months' time, "which means the winter styles we showed would be for autumn/winter 2016."
Jacobs, for his part, said that his range has been received very positively, "which has been quite refreshing. I think it proves that there is a need for a strong African aesthetic which is still accessible in the retail schema. My approach is not about trying to be clever, but giving the wearer an edge while remaining comfortable, modern and accessible."
With garments starting at 850 rands ($73) for cargo pants, 799 rands ($69) for a shirt and 350 rands ($30) for a T-shirt, he reported that "I've already had huge preliminary interest from buyers, while private clients have already put in their orders for the pieces they would like."