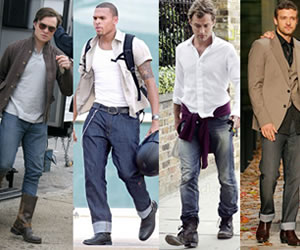 The question is how to pull off any kind of boots? Though the boots are especially practical in winter because of the cool temperatures, boots are great year-round because they're low-maintenance and cute, and can be worn in every season. So, when you are going to pull off any kind of boots, short boots, medium height, or flat boots, there is a perfect pair of boots out there for you! But unlike other kinds of footwear, before you raid the stores for a pair of boots, you need to determine the type and style you want to own.
Boots according to your body type
Choose a pair of boots which should consider your body type as they may come in a variety of shapes and lengths, but it's up to you to zero down on a pair that will most suit your body type. When you think that how to pull off any kind of boots, you should take your body, style and activity level into consideration, so that you can decide on the best boots.
While buying boots
Always remember to choose a pair that can easily meet your footwear needs. Consider the following factors when shopping for a pair of boots.
The right fit
When you are going to pull off any kind of boots take note that boots must be according to your need. So, when shopping for them, go for a pair that you can comfortably and confidently wear. They must fit like a glove. The right fit is significant if you want healthy feet. After all, you don't want to own boots that give you aches and blisters.
Sizing your boots
Before pulling off a pair of boots make sure the boots don't slip on the heel. Also, check for a lot of room at the toes. To check for tightness, put them on without socks first. Make sure your toes have enough space to wriggle. Also, feel for tight areas around the sides of your feet. And then, test the boots again, this time wearing socks.
Pick quality over price
The investment for the superb quality is a wise idea. Price of boots should only be a factor when you've carefully probed the quality of the boots. Shop only for quality boots, especially if you intend to use them often as it is a matter of how to pull off any kind of boots. To make your purchase cost effective, buy boots that are versatile enough to match your different clothing styles.
Test your buy
When going to pull off any kind of boots at store you must walk about for at least 15 minutes. When you are doing that, observe how the boots feel when walking forward, backward and side-ways. If you are planning to wear the boots walking on inclined areas, ask the store clerk if there's a sloped area in the shop or a slanted board to test your boots.
Different types of Ankle-length boots
At a large amount widespread and popular style in boots, these are usually just skim your ankle. These are great because they don't give you the same stuffiness as taller boots and provide more comfort. Normally, ankle length boots are worn with bottoms covering the top of the boots; so that people won't even realize that you're not wearing full length boots. You can also match these with a sexy dress to up your style quotient.
High Boots Keep You Warm
For both the seasons i.e. fall and winter days tall boots are perfect for. They allow you to get wear out of your lighter dresses. Put them in the back of your closet when the temperatures start to rise, though; they look out of place in hot weather.
Slim, High Boots: A Staple
While pulling off any kind of boots pick you must choose a pair that's fitted around your leg but not so tight that your skin bulges out from the top. There shouldn't be more than a half inch of space between your leg and your boot.
Flat Rider Boots Can Be Less Fitted
A straight cut makes them easy to slip in and out of, and they're perfect if you want to put your jeans inside. They're a little more casual but still refined.