In the past 10 years, apps blew up the dating pool, porn got smarter, and sex toys showed up in Target. People talk more openly about sex and know more about it too. Sex should be better than ever. But is it? To find out, we joined forces with Women's Health to poll thousands of men and women on their sex lives.
[contentblock id=1 img=adsense.png]
We compared the results with those from a survey MH did in 2006, and then asked the experts for tips. The good news: You're having the best sex ever. (Or at least you will be.) Just follow these seven steps.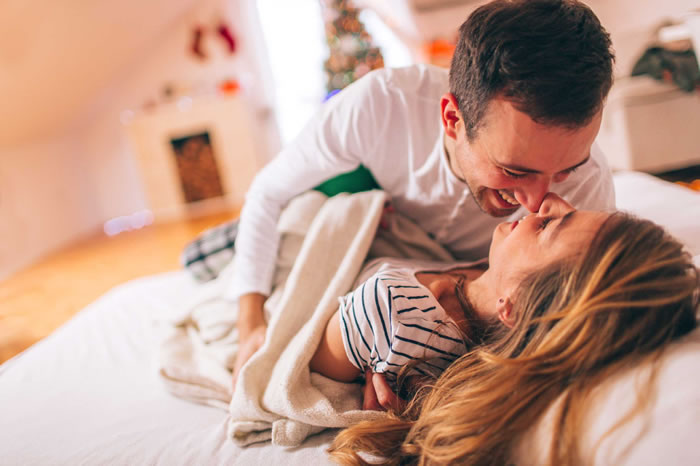 JUST ASK
That's all you need to do to convince her to experiment in bed, our survey shows. (61 percent of women say "just ask," compared to 48 percent 10 years ago.) So take a shot. Threesomes, anal, and public sex are all trending up. One reason: Premarital playtime lasts longer. The average age for a first marriage is now 29 for men and 27 for women. American society is increasingly open-minded, adds anthropologist Helen Fisher, Ph.D., the author of Anatomy of Love. We're also healthier and better educated—and educated people tend to be curious. Join the party: At WeShouldTryIt.com, you and your mate can separately take a sex questionnaire that reveals only the activities you both chose. You can even add your own questions. So she'll learn of your Gilmore Girls fantasy only if she's into it too.
RELAX, ALREADY
Feeling pressure to perform? Can't blame you: "Women are beginning to demand good sex," says Fisher. "They're not just lying back and thinking of England." Today's career women, not dependent on marriage, can be pickier, Fisher says. Plus, men have a natural desire to want to please women in bed. The upside of all this? Satisfy her and she'll invite you back. That said, our survey indicates you're doing fine. (71 percent of women are happy with their sex life. Men: 52 percent.) So try to relax a little. Distract yourself by focusing on intimate details—her sounds, her expressions, her erect nipples. Encourage her to tell you what to do, says Pepper Schwartz, Ph.D., a sexuality expert at the University of Washington. "Sometimes women are afraid they'll sound like traffic cops." Say you like when she tells you what she wants.
RAISE YOUR CLITORAL AWARENESS
Women can find it difficult to climax from intercourse alone; the experts have been telling men this for years. But more women are getting there now, our survey suggests, with 30-somethings leading the way: Forty percent of them said vaginal sex was the most likely way for them to reach orgasm in bed; it was the top answer in nearly every age group. (For 50-plus, it was second, behind oral.) Men, women—all of us!—have gained more "clitoral awareness," says Ian Kerner, Ph.D., a sex counselor and the author of She Comes First. Couples are probably expanding their repertoire too, says Justin Garcia, Ph.D., of the Kinsey Institute. And the more varied the stimulation, the more likely she is to climax—something MH has reported in recent years. "It's possible the tips really are working," Garcia says. Such as: Try slow grinding with her on top, or have her hold a vibrator against her clitoris in the missionary position, says Kerner. Or try a penis ring. Yeah, you.
[contentblock id=2 img=adsense.png]
FIND THE MISSING KINK
Nearly half the women surveyed have tried light bondage. Sure enough, when we asked women what they like in bed, words like "take charge," "get rough," and "dominance" came up—a lot. "Fifty Shades of Grey tapped into something that's been around in women forever and ever," says Fisher. "I call it the iguana syndrome." Wait, what? A female iguana will lie on her stomach, raise her butt, and surrender to the male. "If either one doesn't play his or her part perfectly, the copulation doesn't occur," Fisher says. "She has to surrender. I think dominance and submission, which should probably be called surrender, is all a vast human construct on a basic primordial strategy in which the woman surrenders completely and the man totally dominates to impress her." We command you to try.
PRESS THE PLAY BUTTON
We keep asking, and women keep telling us: more foreplay. In our survey, it beat out oral, touching, kink, and dirty talk as their prime request. Thirty four percent of them want more of it. Women need foreplay for the arousal that leads to desire, says Kerner. His female clients also complain about a limited sex menu, so foreplay's variety (all that kissing, rubbing, talking, stroking) can work wonders. Even a hot show like The Girlfriend Experience or Masters of Sex can help. "Humans can get very aroused without any physical touch," he says. Be showered and ready before you dim the bedroom lights and press play. Tell her she's hotter than the actress in the show, and let your hands explore each other's laps. When credits roll, start kissing. Another thing to watch: each other, touching yourselves. And you thought foreplay was boring!PUT
A RING ON IT
Sex toys a threat? More like reliable backup. One in 3 couples use sex toys during intercourse. And they're more advanced: controlled by apps, responsive to music, even counting Kegels, says Claire Cavanah of the sex toy retailer Babeland. If she's not into them yet, mention an article you read, Dr. Snyder suggests. (Here's one!) Then shop together. Talk about what you want to use, and research the items first so you both end up happy, says Cavanah. If she's nervous, maybe give her solo time to get comfortable, says Dr. Snyder.
[contentblock id=3 img=gcb.png]
SHE'LL WATCH
Is an iPad a sex toy? About half the women we asked use porn during foreplay or sex. And of those who haven't tried it, 75 percent say they're game. "Porn is the psychological equivalent of using a vibrator" for some women, Dr. Snyder says. Porn for them may have interesting stories and more kissing; plus, says University of Western Ontario researcher Taylor Kohut, Ph.D., free porn may have actually led to higher quality as producers try to compete. (Evidence: x-art.com, ErikaLust.com, and forthegirls.com. Check the couples-friendly list at welovegoodsex.com.) What's more, watching porn together may improve your relationship, Kohut's research suggests. One in four women in our survey say it's helped their sex life. Feel awkward bringing it up? Don't use the p-word, Kerner says—just say "Want to watch something fun and sexy?"