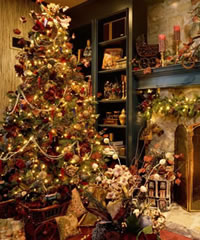 Take a city break with your loved one and take the boredom out of Christmas shopping. See the sights and breath taking views.
Who doesn't love Christmas time? Only the severly depressed and the incurable pessimists! Christmas is meant ot be full of joy and new experiences with loved ones. So if you've spent years with your whole brigade of families then maybe it's time for a quick break to experience this festive time with your true loved one.
Tinsle Town is calling! Why?
Fairy dust, red boxes, fairy lights, Christmas tree, hot chocolate and angel mist! Why do many Christmas scenes in my head revolve around New York City? It's not because I went there and spent Christmas there in my childhood, although I may as well have. Growing up watching multiple movies, you'll notice a fabulous Christmas scene in a movie and where will it be? NYC, where all romances are meant to have a happy ending and where all Christmases seem picture perfect!
So whisk your loved one away for Christmas and what better place to shop, eat and party? New York has a little something for everyone.
Where to shop you ask?
Take the fast track into the festive mood with a wonder around a departmental store, such as Barneys, Saks Fith Avenue or Bloomingdales. Check out Macy's too for the most wonderful Christmas gifts you can think of.  Downtown West Broadway will really pick holes in your wallet, but whats money for if you don't spend it? You cant go to New York and not visit these shopping havens. Now for more affordable Christmas shopping, hit the streets of Soho.
Don't Miss….
The Christmas tree at the Rockerfella Plaza of course! A truly breathtaking sight and a must have in your Christmas photo albums for years to come. The holiday tradition there dates back to 1931, when the Rockefeller Center Plaza first lit its tree. That Christmas tree was less than 20 feet tall; this year, the tree is 84 feet tall and 48 feet wide. It is lit from approximately November 28 to January 6.
Skate on the ice rink; the beauty of ice skating in Central Park on a sunny day, as they do in all romantic movies. Re-live the moments you've seen for many years on that big box.
Then after hearing multiple carol singers, you must hail that famous yellow cab and hop to downtown for some partying festivites.
Try ..
The Big Apple Tour Bus. I know it seems like a very gimmick type of activity to do but what better way to see the sights of New York and all at once. You can hop on and off at many different points. Take in the Christmas sights in each area.
If you have more than 3 days –
Take a carriage ride through Christmas lit areas. If you want to spend the money go up in the elevator in the empire state building and see the city from the observation deck, where all the Christmas lights and festivites can be seen from. Buy some roasted nuts from a street vendor. Go to Times Square and visit St.Patricks cathedral which is really beautiful.