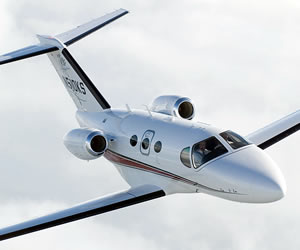 Take your Relationship with Aviation to The Next Level.
The Citation Mustang is single-pilot-certified and features the same avionics package, the Garmin G1000, as the majority of our single-engine and Caravan aircraft, making the transition into jet ownership easier than ever.
Extraordinarily high levels of performance and assurance are now available in a jet aircraft costing millions less. Whether it's a business tool or recreational vehicle, the Mustang will not disappoint.
It's an entirely new kind of business jet. One that's designed – and priced – to bring the dream of jet ownership comfortably within reach of a whole new class of aircraft operators. Ample cabin-class seating, true jet speed and a good half-continent of range come together with a price tag that's almost a million dollars lower than that of any comparable aircraft. And above all, it's a Cessna. So as your needs grow and missions expand, your next Citation will be waiting for you, quite literally, in the wings. This natural, seamless process can take you from where you are today all the way to the fastest business aircraft in history. – Cessna
Technical Data:
Performance
| | |
| --- | --- |
| Maximum Cruise Speed | 340 ktas |
| Maximum Range  1 | 1,150 nm |
| Takeoff Distance (S.L., ISA, MTOW)  2 | 3,110 ft |
| Landing Distance (S.L., ISA, MLW) | 2,380 ft |
| Maximum Operating Altitude | 41,000 ft |
| Maximum Climb Rate (Sea Level) | 3,010 fpm |
| MMO | Mach 0.63 |
Avionics & Powerplant
| | |
| --- | --- |
| Avionics | Garmin G1000 |
| Powerplant | |
| Manufacturer | Pratt & Whitney |
| Model | (2) PW615F |
| Power Output | 1,460 lb |
| Time Between Overhaul | 3,500 hr |
Weights
| | |
| --- | --- |
| Maximum Ramp Weight | 8,730 lb |
| Maximum Takeoff Weight | 8,645 lb |
| Maximum Landing Weight | 8,000 lb |
| Maximum Zero Fuel Weight | 6,750 lb |
| Usable Fuel Capacity | |
| Weight | 2,580 lb |
| Volume | 385 gal |
| Typically-Equipped Empty Weight  1 | 5,585 lb |
| Useful Load | 3,145 lb |
| Maximum Payload | 1,165 lb |
| Full Fuel Payload | 565 lb |
| Baggage Capacity | |
| Weight | 718 lb |
| Volume | 63 cu ft |
Dimensions
| | |
| --- | --- |
| Exterior | |
| Length | 40 ft 7 in |
| Height | 13 ft 5 in |
| Wingspan | 43 ft 2 in |
| Wing Area | 210 sq ft |
| Cabin | |
| Length  2 | 9 ft 9 in |
| Maximum Height | 54 in |
| Maximum Width | 55 in |
| Seating Capacity | 5 – 5 |
| Single Pilot Certified | Yes |