Some shoot out of the soft rock like sunbathing reptiles. Others are mysterious depressions that resemble an ancient board game popular around the world. And a few are simply perplexing.
Al Jassasiya, the Gulf country's largest and most important rock art site, is located on a desolate and windswept corner of Qatar's northeastern coast, among the sand dunes of the barren desert.
Here, People centuries ago used a series of low-lying limestone outcrops as a canvas to carve symbols, motifs, and objects that they saw in their surroundings.
Archaeologists discovered approximately 900 rock carvings, or "petroglyphs," at Al Jassasiya. They are mostly enigmatic cup marks arranged in various patterns, such as rows and rosettes, but they are also eye-catching representations of sailing ships, usually seen from above but also in linear profile, among other symbols and signs.
"Although rock art is common in the Arabian Peninsula, some of the carvings in Al Jassasiya are unique and cannot be found anywhere else," Ferhan Sakal, head of excavation and site management at Qatar Museums, told CNN, referring to the petroglyphs of ships seen from a bird's-eye view.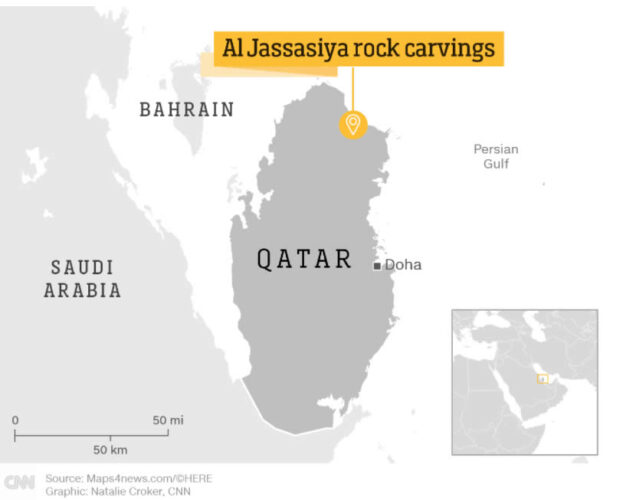 "These carvings represent a high degree of creativity and observation skills [on the part of] the artists who made them," he said. "Also [of] abstract thinking, as they were not able to see the dhow (a traditional ship) from above."
Qatar has about 12 notable petroglyph sites, mostly along the country's coasts, though some carvings can be found in the heart of Doha's Al Bidda Par, overlooking the Corniche, a popular waterfront promenade.
Al Jassasiya was discovered in 1957, about an hour north of Qatar's uber-modern capital and near the old pearling port of Al Huwaila. Over the course of six weeks in late 1973 and early 1974, a Danish team led by archaeologist Holger Kapel and his son Hans Kapel meticulously cataloged the entire site in photographs and drawings.
More than a third of all documented single figures and compositions are cup marks in various configurations, shapes, and sizes.