The Petiole Hammock which is a product by Hammacher is a masterpiece and a work of art in itself.  The entire design that exudes luxury is perhaps what makes it the most expensive and most luxurious hammock in the world!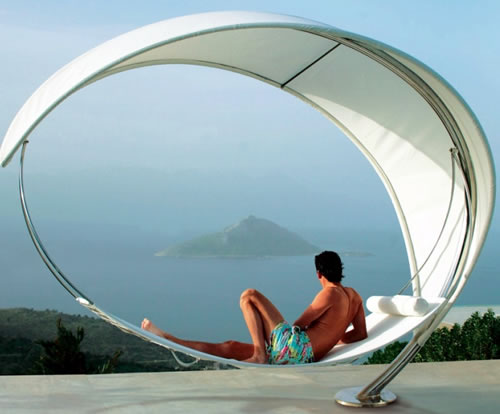 This slick design has been manufactured with a great deal of precision and care in the Hammacher factory in Sweden. The entire structure is crafted in steel and it has a canopy to protect the user from the direct rays of the sun.  This hammock can be kept anywhere as it does not require the traditional set up of two trees for attaching the hammock.  The Petiole is in great demand by the owners of sea side villas who want to laze in their lawn whilst enjoying the serene and panoramic views of the sea.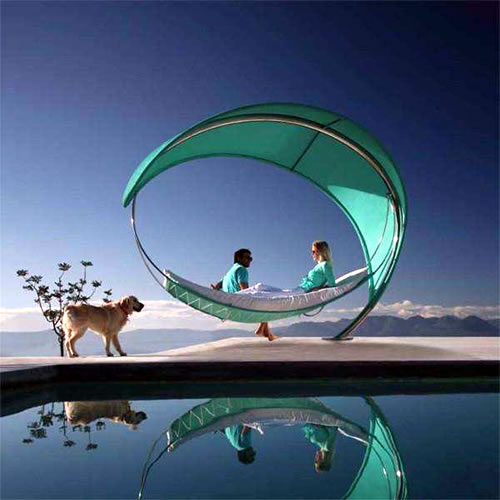 This hammock retails for $35, 000 which is perhaps quite affordable for the rich and famous.  Moreover, the exquisite design of The Petiole has been appreciated around the world and it has won the coveted Les Decouvertes award for innovation at the prestigious Maison & Object design show.  This self-suspended and luxurious hammock is the result of the 20 years of research and designing that took place in Sweden to finally arrive at the innovative design of The Petiole.
The hammock is made over a span of four weeks, as two artisans are required to make the entire hammock by hand.  The entire hammock is supported by a stainless steel nine-foot tall pole that is then curved to form a semi-circle. So that either ends of the hammock bend can be affixed to the pole.   This design allows the individual structure of the hammock to support itself.  The canopy lock the UV radiation by 86% but it still gives a good view of the sky.  Sturdiness is another strong element of this hammock as it can bear the weight up till 250 kilograms, hence it has a high tensile strength.  The best part of the Petiole is that it is built for two and is a great accompaniment for a couple who are on a holiday.
The Petiole can be bought from Hammacher.
Via: Bornrich