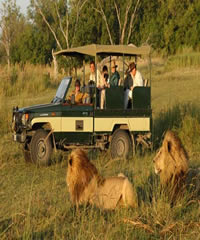 Are you planning to spend your vacations with family? Kenya Family Safari is best place to make your moments memorable. You will experience the joyous moments in Kenya.
Kenya Family Safari is one of the most top African safaris with fantastic and breakthrough landscapes and wildfire destinations and off course an excellent luxury safari.
Your first stay in Kenya Family Safari will be Nairobi. After arrival in Nairobiyou will enjoy the Windsor Golf and Country Club. There is old style colonial resort in Nairobi where you can enjoy many sports activities.
From Nairobi you can go to Mount Kenya region by road. There is Sweetwater's Game Reserve and chimp Sanctuary. There you will be astonished to see Luxury Sweetwater's Tented Camps. The luxury tents floodlit by night and overlook the waterhole.
Sam Buru National Reserve is a fascinating reserve situated in the northern, arid region of Kenya Safari. It is 350 kilometers from Nairobi. The game reserve is renowned for its rare species of animals unique to the park, namely: the long necked gerenuk, Gravy's zebra, reticulated giraffe and Beisa onyx.
Lake Nakuru is world-renowned part of Kenya Family Safari and it is known for its millions of pink Flamingoes feeding in the lake. This Lake is about 60 square kilometers in size. The Nakuru Lake is covered by park around the northern, eastern and western shores. There is Lion Hill covered by magnificent Euphorbia, it gives a look of prehistoric landscape.
At the end very important and beautiful part of Kenya Family Safari is Masai Mara.
Masai Mara is situated in southwestern Kenya on the border of Tanzania.  It is said that Masai Mara is a pristine wilderness of haunting beauty of Kenya Safari. Best place to enjoy with family. It is known for birdlife species, the presence of high amount of predators, wildebeest and lions & cheetahs. The enjoyable thing is you can go on hot air balloon safari with your family; the best time of ballooning is early morning. There are tour companies who offer ballooning with champagne breakfast. The other thing you can do in Masai Mara is walking safaris, Game Drives and cultural tours with Masai.