Two weeks after stepping foot inside a WWE ring for the first time in more than 12 years, Goldberg appeared on Monday's Halloween edition of Raw in Hartford, Connecticut. In the first segment of the show, Goldberg hit Rusev with a Jackhammer and followed that up with a Spear of Paul Heyman, as WWE shared:
[contentblock id=1 img=adsense.png]
Rusev had previously been critical of Goldberg's return and punched him, per WWE Universe: After Heyman piled on, Goldberg retaliated in a big way to end the segment looking strong. The reactions were mixed on how Goldberg looked after such a long layoff from the ring. Kevin Berge of Bleacher Report is concerned for Goldberg in the coming weeks: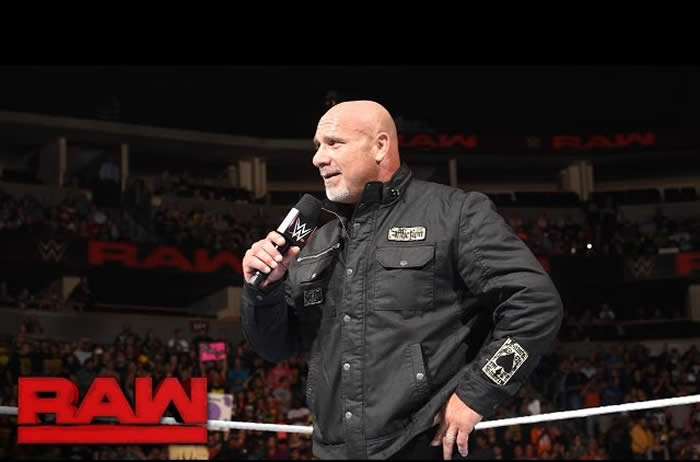 Heyman laid down a challenge on behalf of Brock Lesnar a few weeks ago by calling out Goldberg on Raw and telling him that his client wanted a fight. Heyman did everything possible to get under Goldberg's skin and goad him into accepting, including stealing his catchphrase, as seen in this tweet courtesy of WWE Universe: That led to Goldberg's highly anticipated return during which he cut an impassioned promo and responded to both Heyman and Lesnar.
[contentblock id=2 img=adsense.png]
Although the 49-year-old initially suggested he might be best off staying retired, he eventually decided to step up and accept the Beast Incarnate's challenge: By and large, however, the fans were behind Lesnar, which creates an interesting dynamic with regard to how the Superstars will be received when they are in the same ring.
Goldberg got plenty of support Monday on the heels of the announcement that he and the Conquerer will lock horns at Survivor Series on Nov. 20. Their first and only meeting came at WrestleMania 20 in 2004, and the bout was roundly criticized for several reasons. The crowd was against it from the start since it was widely known that both men intended to leave WWE following the event. That could have potentially been overshadowed by a great match, but there was a definite lack of chemistry, and what should have been one of WWE's all-time great spectacles was instead one of its greatest disappointments.
[contentblock id=3 img=gcb.png]
Goldberg and Lesnar will look to replace that memory with a better one at Survivor Series, and based on the intensity Goldberg has displayed in his two appearances thus far, he is primed and ready.With the traditional elimination matches potentially voiding the possibility of world title bouts at Survivor Series, Goldberg and Lesnar will be given center stage, and WWE is undoubtedly providing the clash with a build to match.