In a post-WrestleMania 32 world in which WWE has been off-center—in a very good way—this week's Monday Night RAW sends the audience off with a go-home show that actually feels like a go-home show for once.
[contentblock id=1 img=adsense.png]
This isn't to say that this week's RAW is the best of this recent bunch, but it's certainly solid in creating that interest in the pay-per-view on Sunday, which is honestly the sole point of the go-home show. At this point, after years of finding frustration in the way that WWE builds to its supposedly "big" shows, it's here, in the build-up to Payback, that nearly everything finally clicks.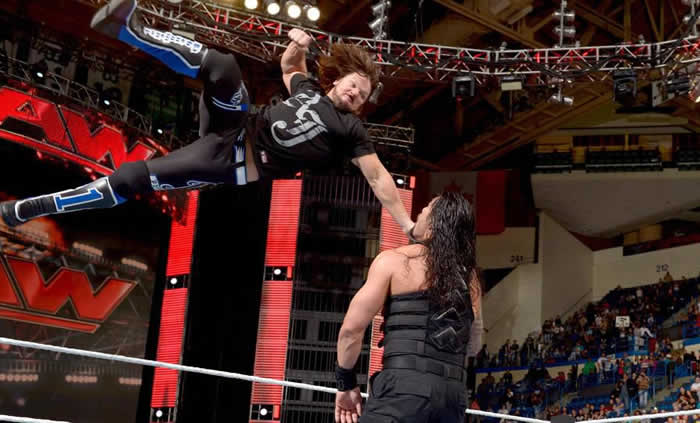 Despite April being a month that truly proves thatWrestleMania is no longer the Super Bowl of wrestling (it's more like the half-time show without Beyonce, masquerading as the complete Super Bowl), it's been getting the job done, as long as you don't think too for longer than 10 seconds about the in-story reasons as to why they're happening in the first place (Shane McMahon). But as fresh as these past few RAWs have been in terms of match cards and just general storytelling, the signs are that the WWE is ready to go back to the status quo are there. After all, the fact that WWE is doing so well in giving the people what they want just proves that company knows what's the audiences want and regularly makes it clear that it does not care. This is the same show that puts Shane McMahon in charge and gives the audience a taste of the "new era," without even once trying to give a real reason as to why he's in still charge in the first place. This is also the same show where a Kalisto/Ryback WrestleManiarematch is announced as the kickoff show to Payback in the final hour of RAW, because Ryback pinned Kalisto on SmackDown, a moment that doesn't even warrant a replay on RAW.
[contentblock id=2 img=adsense.png]
This is also the same show where, in an effort to build up one women's storyline in Natalya/Charlotte, WWE apparently loses the ability to build up another women's storyline in Emma/Becky or have a full match. And in repeating WWE's more frustrating habits, this is also the same show where the announcers make sure to repeatedly tell the audience that a failed team is still definitely together, simply because one of the members already confirmed that said failed team is no longer together. 
What makes the go-home show work, however, is that WWE does everything it possibly can to build up the stories it actually is telling. Sami Zayn and Kevin Owens get a great video package that catches up those viewers who don't quite know their story. The tension is very much there between AJ Styles, Roman Reigns, Karl Anderson/Luke Gallows, and the Usos, even as a story that screams "swerve" instead of "collusion." Dolph Ziggler fights back against Baron Corbin, instead of looking like a punk yet again.
[contentblock id=3 img=gcb.png]
The Intercontinental and Tag Team Championships are treated like big deals, to the point where the latter even makes the idea of being number one contender for said championship a big deal. Chris Jericho calls everyone in Hartford, Connecticut a stupid idiot and then does a submission maneuver on the announce table that actually makes sense. Oh, and the fate of RAW will be revealed at Payback, so that's a reason to watch too. In my notes, I wrote that the Usos' match against Anderson and Gallows felt like the Usos were seeing their own mortality flash before their eyes. You see, WWE knows what reaction it's going to get with Reigns, and at this point, the powers that be just don't care and we just accept that. But it's an interesting move to essentially throw the Usos to the wolves, as the crowd is so firmly behind Anderson and Gallows immediately, chanting "BULLET CLUB" and "U-SOS-SUCK" throughout a match that is basically a pretty decently-lengthed execution.