Come winter, no tradition is as sacred as getting toasted on holiday punch. Yuletide hosts have been soothing their guests' seasonal anxiety with big bowls of hot booze for as long as alcohol has existed. Northern Europeans have always been especially good at this. In the orchards of England, winter meant drafts of wassail, a mulled, rustic broth of hard cider or ale. In the snows of Scandinavia, it was glogg, warm red wine spiked with spices, citrus, and brandy. Farther south, in ballrooms and palaces across France, rum and cognac were mingled with sparkling wine in various concentrations and levels of potency. The comforting flavors — apples and cinnamon, oranges and cloves — are better at lightening up a room than any of those fancy full-spectrum bulbs for the seasonal blues.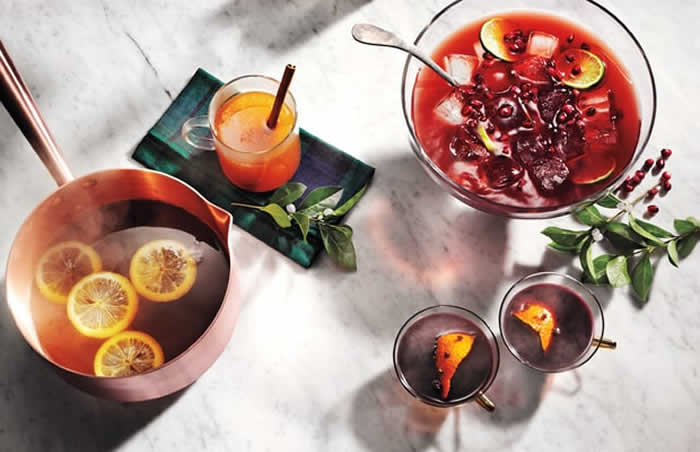 Today the beauty of a well-made punch is that once the party starts, the mess and effort are minimal. And because punches are mixed in advance, you can greet your guests with a warm cup as soon as they doff those winter parkas. They'll immediately warm to your get-together, and you can go back to getting toasted by the fire.
[contentblock id=1 img=adsense.png]
Grenadier's Punch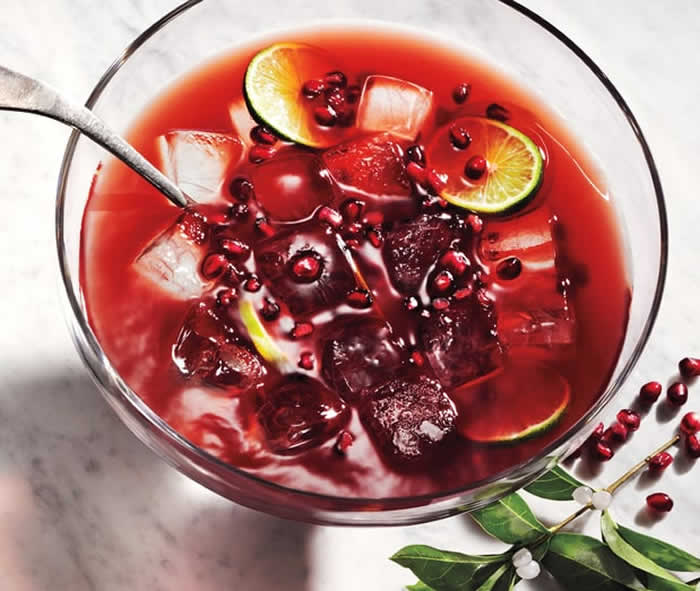 This recipe was inspired by the flavor of grenades, French for pomegranates.
½ cup sugar

¼ cup chopped fresh rosemary

1½ cups pomegranate juice (like POM)

¾ cup fresh lime juice

1 cup dark rum (like Bacardi Ocho)

½ cup brandy

1 oz absinthe

2 bottles cava or prosecco
1. Make rosemary syrup: Combine sugar, rosemary, and ½ cup water in a saucepan. Heat, stirring until sugar is dissolved. Cool and strain.
2. Combine syrup, pomegranate and lime juices, rum, brandy, and absinthe in a large container and chill.
3. To serve, pour half the mixture into a punch bowl, add one bottle of cava, and stir. Add a ring of ice and garnish with lime slices and pomegranate seeds. Repeat step 3 to replenish.
Wassail Punch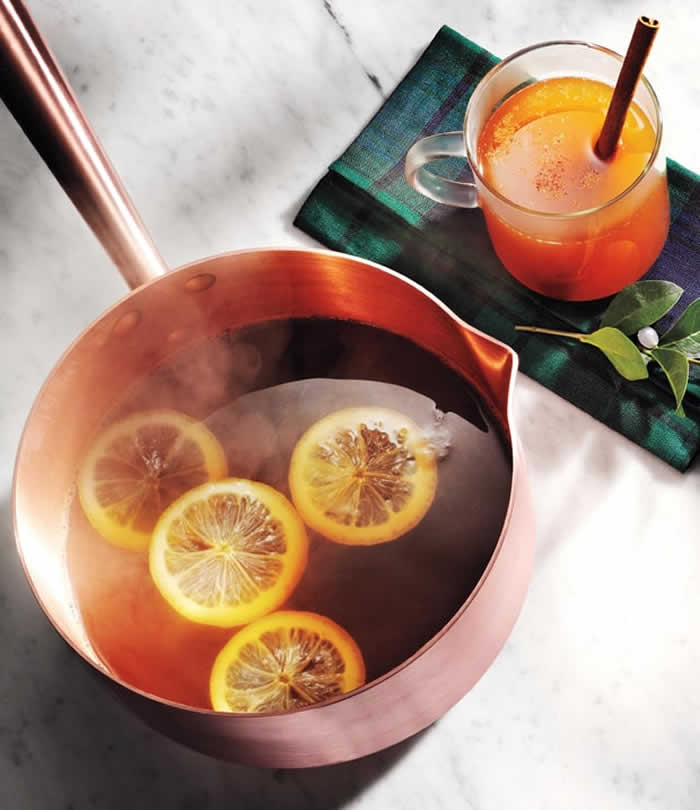 The mix of apples and ale is classically English and delicious.
[contentblock id=2 img=adsense.png]
3 12-oz bottles English-style ale (like Bass)

24 oz apple cider

4 oz honey

1 four- to five-inch piece of ginger, peeled and sliced

4 cinnamon sticks

10 cloves

pinch of salt

1 lemon, thinly sliced

1 cup applejack

16 dashes Angostura bitters
Combine ale, cider, honey, ginger, cinnamon, cloves, and salt in a saucepan. Simmer 15 minutes, remove from heat, and cool. Strain, add lemon, and cool overnight. Before serving, add spiced ale, applejack, and bitters to a slow cooker or saucepan and heat.
Glogg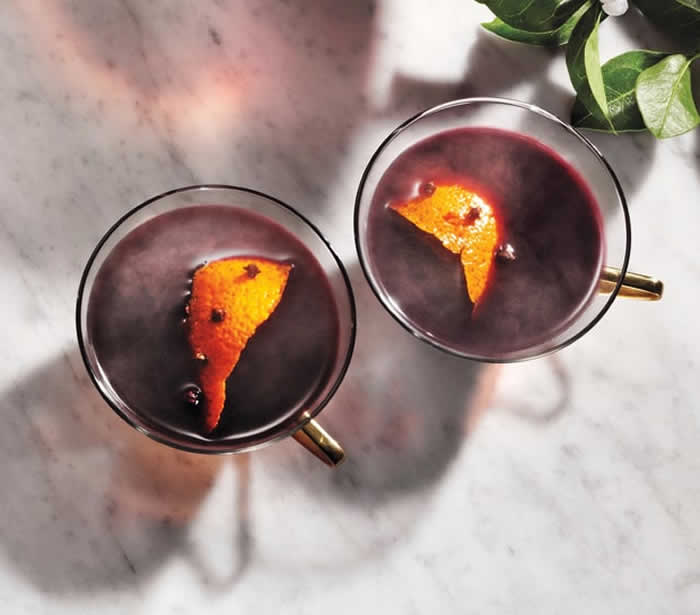 My own special recipe, this one is beautifully rich without being too bitter or too sweet. Guard it with your life.
[contentblock id=3 img=gcb.png]
1 pear, peeled and quartered

1 apple, peeled and quartered

1 orange, quartered

¾ cup sugar

⅓ cup slivered almonds

1 cinnamon stick

4 cardamom pods, lightly crushed

4 cloves

4 cups red wine (about 1½ 750-ml bottles)

½ cup brandy or cognac
Combine all ingredients except brandy in a saucepan. Simmer 15 minutes, remove from heat, and strain. When cool, add brandy. Reheat to serve. Garnish with orange peel.