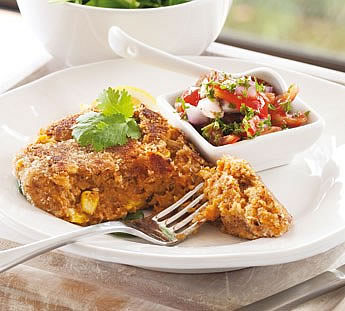 This recipe is wonderfully creative. It takes a few pots and some time, but the results are really tasty.
Ingredients
3 medium kumara, peeled, sliced
16 fresh mussels
1/2 cup corn kernels
1 egg, lightly beaten
5-6 tablespoons breadcrumbs
olive oil spray
SALSA/RELISH
1 red or yellow capsicum, deseeded, diced
1 tomato, diced
1 small red onion, diced
1/4 cup fresh coriander or fresh parsley, chopped
1/4 cup sweet chilli sauce
1 tablespoon soy sauce
1 orange, 2 tablespoons juice
Method:
Step 1 Cook kumara in lightly salted water until tender. Drain. Steam mussels in minimal water until they open. Remove from shells. Roughly chop mussel flesh.
Step 2 Place kumara, mussels and corn in a processor. Pulse for a few seconds. Add egg. Pulse to combine.
Step 3 Make 4 even-sized cakes. Coat in breadcrumbs. Heat oil spray in a non-stick pan. Cook 2 cakes at a time over a medium-heat until evenly browned, turning once.
Step 4 To make salsa, place capsicum, tomato, onion and fresh herbs in a bowl. In a separate bowl, mix sauces with orange juice and pour over vegetables. Serve salsa with cakes. – healthyfood