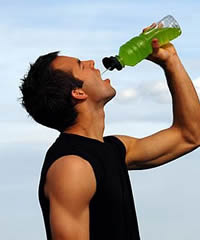 Take these steps every day to live a safe and healthy life.
Eat healthy:
Eat a variety of fruits, vegetables, and whole grains every day for nutritions-laden healthy diet.
For a healthy and balanced diet, limit foods and drinks high in calories, sugar, salt, fat, and alcohol.
Protect yourself:
Wear helmets, seat belts, sunscreen, and insect repellent while playing extreme men's sports.
Avoid smoking and inhaling other people's smoke.
Build safe and strong relationships with family and friends.
Be ready for emergencies during extreme sports. Make a supply kit. Make a plan. Be informed.
Manage stress:
Balance work, home, and play hard for good health.
Get support from family and people near you.
Get 7-9 hours of sleep each night for good health. Make sure kids get extra, based on their age.
Get Check-ups:
Ask your doctor how to lower chances of major health problems based on your lifestyle, personal and family health histories.
See your doctor as often as he or she says to do so. See him as  soon as you feel any sickness, pain or any other problem related to men's health.