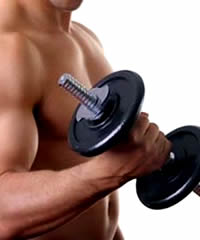 There are some important things we need to know about weight lifting like the schedule, amount of weights that should be lifted and weight lifting equipment used.
Thinking about the workout for men? Weight lifting has always been a good workout for men. It doesn't mean that men should just rush into weight lifting and all that.
There are some important things men should consider before starting weight lifting like the schedule and the amount of weight you should be lifting. Most importantly, one should have knowledge about some weight lifting equipment because there are various types of weight lifting equipments available in the market and you must be able to choose the best for yourself. The objective of weight lifting is not only to create a good and wide physique, but also to increase the strength of the body.
There are number of weight lifting equipments available such as barbells and dumbbells, weight lifting belt, weight lifting gloves and many more.
Talking about barbells and dumbbells, people are not able to differentiate these two from each other. In fact, they are not the same and differ in many ways. Though, both barbells and dumbbells can be used for increasing the body strength and making bigger muscles. Dumbbells are normally the smaller version of barbells. Very important weight lifting equipment is the weight lifting belt that ensures your safety while you do the workout. It helps your back to be safe and protected throughout the workout movements.
Last but not the least, there are weight lifting gloves that ensures the safety of your hands while you lift heavy weights. In addition to that, weight lifting gloves make stronger grip with the weights so that they don't slip through your hands.
So consider these small precautions and suggestions to experience a successful workout.