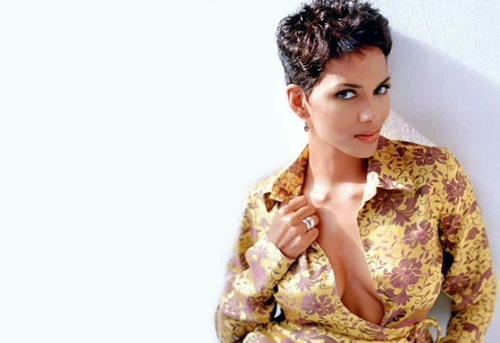 African ethnic Halle Berry was born in Cleveland, Ohio on 14th August 1966 to U.S African father Jerome Berry, a former hospital attendant, and U.S European mother Judith Berry, a retired psychiatric nurse. Halle also has an older sister named Berry. First time Berry arrived on scene was when she contested Miss Teen All-American Pageant and was good enough to win the contest. She represented state of Ohio in 1985 and, very next year in 1986 she stood 2ndin the Miss U.S.A. Pageant. These contests helped Berry and very shortly after winning the contest she became a model.
Things started working out for Berry and she eventually found herself a chance to present her talent on TV screen in weekly TV series, 1989's "Living Dolls", where she soon gained a reputation for her on-set tenacity, preferring to "live" her roles and remaining in character even when the cameras stopped rolling. Berry's interest and hardworking paid off though when she reportedly refused to bathe for several days before starting work on her role as a crack addict in Spike Lee's Jungle Fever (1991) because the role provided her big screen breakthrough.
She did not have to wait long for next opportunity, the following year she was cast as Eddie Murphy's love interest in Boomerang (1992), one of the few times that Murphy was evenly matched on screen. It was 1994 when Berry gained a youthful following for her performance as sexy secretary "Sharon Stone" in The Flintstones (1994). Next came the opportunity which had probably given up thrust to Berry's career, it was highly publicized costarring role with Jessica Lange in the adoption drama Losing Isaiah (1995). Even though movie received mixed reviews, Berry didn't let that slow her down, and continued down her path to super-stardom. It was 1998 when her career went to next level and world knew how skilful Berry is, she received critical success when she starred as a street smart young woman who takes up with a struggling politician in Warren Beatty's Bulworth (1998).
Success starting coming one after other, in the following year, she won even greater acclaim for her role as actress Dorothy Dandridge in made-for-cable's Introducing Dorothy Dandridge (1999) (TV), for which she won a Golden Globe for Best Actress in a TV Movie/Mini-Series. Berry's first ever real success on box office came In 2000, through movieX-Men (2000) in which she played "Storm", a mutant who has the ability to control the weather.
Marriages and relationships:
One thing Halle berry may not be as good as she is in acting is marriage. She was married twice and both time got divorced. Her first marriage lasted for little less than 4 years. She was married to David Justice in January 1993 and got divorced on 24 June 1997.  She was married again to Eric Benet on 24 January 2001 and got divorced on 3 January 2003.Currently Berry is engaged to Olivier Martinez and expecting a child together
Hall of fame:
Berry has achieved a lot throughout her career. In 2004 she was named among the world's top 50 most beautiful women and that was not only year when she appeared in that list. Till now she has appeared in the last for 8 times. She is considered Hollywood's most well-dressed actress.