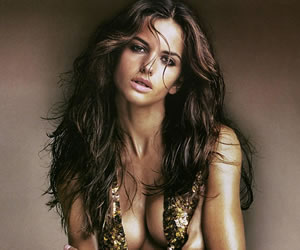 Izabel Goulart, the most desired Victoria's Secret model began her modelling career back in 2005 when she met a hairstylist and was suggested to get into this career of glamour and fame.
Izabel Goulart Biography
Izabel Goulart, the famous supermodel was born on the 23rd October 1984. 27-year old flawless supermodel has an attractive smile for what the beauty is so famous for. Her first walk on the ramp was a complete malfunction but even after that the beauty got a lot of appreciation and encouragement. Izabel was initially not comfortable with her bikini shoots but her photographers made her comfortable and told her to let it go because without it, she wouldn't have flourished in the modelling industry.
Why is the supermodel Izabel Goulart Famous?
The Brazilian super model and a complete bombshell, Izabel Goulart, is a supermodel desired by every man. The modelling career of the supermodel, Izabel Goulart, began by a popular hair stylist while Izabel was going her grocery shopping with her mother. As a professional, Izabel Goulart began her career as a super model by moving to Sao Paulo in 2005. The major boost which the supermodel, Izabel Goulart got was from the famous Victoria's Secret Fashion Show. The fame for the supermodel rose even more when she was photographed by the top photographers David Sims, Vincent Peters and Terry Richardson. Also for the Vogue magazine Izabel modelled.
Izabel Goulart's Quote
"Modeling has given me the opportunity to travel outside of Brazil and see the world." The supermodel acknowledges the talent which has made her learn a lot in life.
Izabel Goulart Sex Appeal
No wonder, the supermodel, Izabel Goulart is the fantasy of many men. Her perfection with curves and physical appearance has topped the supermodel. Izabel Goulart has a 5'9". The Brazilian supermodel and super beauty has long legs with a physique of 32.5 23.5 35. Supermodel, Izabel, has managed to become the promising models of all times.
Izabel Goulart's Success
Supermodel, Izabel in addition to being the top model of the Victoria Secret has recently become the Esquire Magazine's annual list of hundred famous people in the world. This is because Izabel has managed to work with popular brand names too such as Diesel, Forum, Zoomp and Yohji. The supermodel's portfolio even got better with her acting career from the Entourage back in 2007.