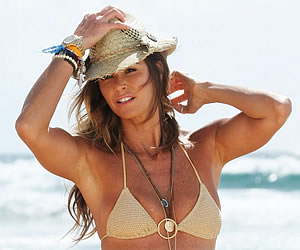 Elle Macpherson is the name of fame and success in the fashion industry. Different from all of her collegues and competitors, Elle Macpherson is an Australian businesswomen, host, superstar model and actress. Old aged Elle Macpherson is doing a great job both in fashion world both as model and executive producer of Britain and Ireland's Next Top Model. She has been given a nick name "The body" after her appearance in the Sports Swimsuit Issue. Currently, Elle Macpherson is the host and executive producer of NBC's Fashion Star.
[contentblock id=2 img=adsense.png]
Elle Macpherson Early Life:
Elle Macpherson was born on March 29, 1963 in the house of engineer Peter Gow. She has been grown up in Linfield and took her early education from Killara High School. Since she belonged to a family of entrepreneur, she is a businesswoman and has a great sense of business. Later one, her mother got remarried again after getting divorce from Gow. This is how Elle Macpherson got changed her sir name. Elle Macpherson is a career oriented girl and had germs of making progress in the field whichever suits him. She has proven herself a capable model, disciplined woman and best in management of the affairs of the modeling world.
Elle Macpherson Career:
Elle Macpherson has started her modeling career without any fortunate hint of luck. She initially signed up with the Click model management in New York and later proved herself to be in the lime light of the fashion world. Formally, Elle Macpherson's modeling career took start in 1982 with a television commercial. This has made Elle Macpherson famous as a "girl next door". It was the time of success. Meanwhile, Elle Macpherson made herself on the cover page of the Time magazine. Not only this, this was her greatest achievement that in the very start of her career, it was no other than Elle Macpherson who was on the cover pages of Cosmopolitan, Elle, GQ, Vogue and Playboy. Elle Macpherson was a professional model now, dedicated towards her work, blessed with natural beauty and desired passion and attitude. It was her faith and hard work that keep Elle Macpherson on the cover of Elle for the six consecutive years. Elle Macpherson did not keep herself stick and content to the modeling world alone. Along with Naomi, she co-hosted Miss Universe 2001. Elle Macpherson raised herself to that much height of fame and success that the Australian government offered her position of ambassador on tourist commission.
Elle Macpherson Business Career:
In addition to her executive responsibilities as Elle Macpherson Intimates and the Body, Elle Macpherson spent a year on the Board of directors at Hot Tuna. She has been doing well in the management affairs of the organization. In 2008, Elle Macpherson signed a contract with Revlon Cosmetics and served as Global Brand Ambassador. In the following year, Elle Macpherson, being a strong and experienced businesswoman, delivered a keynote address at the annual meeting of International Trademark Association.
Elle Macpherson Awards:
Elle Macpherson has been given a number of awards which is clear recognition of her services in the field of modeling and business as well. She was named as Entrepreneur of the year by the Glamour Magzine in 2005. In 2008, she was awarded with the Everywoman Ambassador Award. In the following year, Elle Macpherson was given lingerie designer of the year and in 2009 Elle Macpherson received World Career Award from the Woman's World Awards.