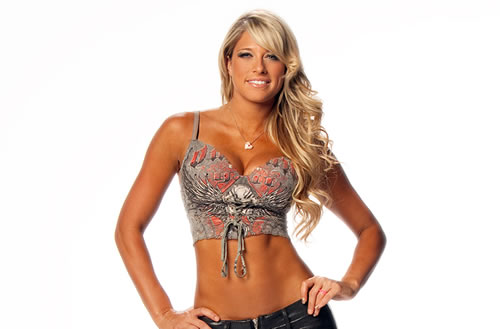 "Barbie", Barbara Jean Blank, better by her ring name Kelly Kelly was born on 15thJanurary, 1987. She is famous American model, ladies' wrestler and professional wrestling valet of WWE. Unlike many other professional wrestlers, Kelly Kelly has started her professional career in gymnastics and cheerleading. In due course of time, she had an experience of modeling for the Venus and Hawaiian Tropic. Kelly Kelly has studies the broadcast journalism and aspired anchor ship as her profession but nature has decided something else for the Barbie. After a long struggle in her professional career, she had been given a chance to try her luck from the platform of WWE. In 2006, Barbie signed a contract with WWE and she was sent to WWE developing territory. Since then, Kelly Kelly is one of the few most prominent names of the ladies wrestlers.
Early Career:
Kelly Kelly started her professional wrestling career in 2006 when she was seen by the John Laurinaitis, an official from the World Wrestling Entertainment. John saw the talent of Barbie and proposed her the new profession which was accepted by the Kelly. It was her talent that WWE offered Barbie a multi-year contract without her any experience in the wrestling field. In the beginning, Kelly used to perform modeling assignments for the WWE then she became ring announcer then referee and then made her way to the professional wrestler. September 6 was the day when Barbara became Kelly Kelly and fought her first match in Women's battle Royal. In 2007's March, Kelly teamed up with the leading wrestlers Victoria, Serena Deeb and ODB and defeated her opponents and became a wining start of the WWE.
Successful Career Course:
In 2006-7, Kelly Kelly was the rising star of the WWE from the Ohio Valley Wrestling. Soon after, she was becoming popular on every passing day. It was the professional commitment of Barbie and her abilities that in 2008, Kelly made herself to the Florida Wrestling Championship. She won both team tags and solo matches. It would be interesting to note that in the said championship, Kelly also appeared as the host along with many other appearances. Kelly was a rising star at that time; she made her way to the ECW brand and became the youngest and hottest Diva on the WWE platform. Kelly was a striptease performer and there was a weekly episode of this with the name "Kelly's Expose".
In 2008, Kelly touched new heights of success and glory when she moved to the Raw brand on 7th of July. In her first debut there, she, in a team, defeated the famous Layla and Jillian Hall. She, in no time, became feud with the Beth Phoenix which made her even more famous. Until 2010, Kelly was one of the prime stars of the Raw but in 2010-11 Kelly joined the ranks of Smack Down. She made her first debut there by defeating Layla and Cool. In 2012, Kelly Kelly appeared as independent wrestler in Waterbury where the NEW event was going on. Officially, Kelly Kelly made her single appearance in NEW on December 4, 2012.
Other Media Appearance of Kelly Kelly:
Since Kelly Kelly was also a model once, so she confidently appeared in the music video of Timbaland Song "Throw it on me". In 2007, Barbie also appeared in an episode of the "The Price is Right". In 2008, Kelly Kelly also appeared in an episode of Celebrity Fit Club as the trainers. A year later, she also appeared in British football show Soccer AM.
Personal Life and Achievements:
Blank was born in Florida to a Jewish Father and Christian mother. She was fond of wrestlers since her childhood. Kelly Kelly was in long relationship with the wrestler Andrew Martin. It has also been reported that Kelly Kelly also dated Dave Batista and Justin Gabriel for some time. However, it would be surprising to note that Kelly Kelly is not the wrestler without any achievement. She has been ranked as the 15th best female single wrestler by PWI, she also have won the WWE Divas Championship.