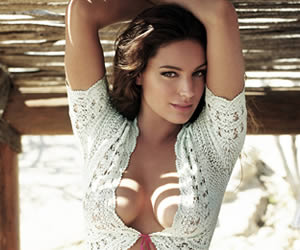 Gracing the events and ramp with her flawless looks, hour-glass figure and stunning appearance, who the celebrity could be? Yes you got it right! Kelly Brook is the name. Bubbly Kelly Brook is an English model, actress, entrepreneur, television presenter and model.
32 year old gorgeous Kelly was born and raised in Rochester, Kent, England. From a very young age Kelly was very much interested in dance, singing, and acting. Kelly's mum entered her in a beauty contest, which Kelly won, and led to her interest in modeling.  Kelly's brief 1999 stint on the morning TV show The Big Breakfast propelled her into the world of celebrity.
After Big Breakfast, Kelly was busy hosting MTV's Select. It was the perfect move for her, as she wanted to be involved with presenting hip music to young fans, because of her interest in dance. More modeling jobs came Kelly's way, such as print campaigns for Renault Megane, Walkers, Piz Buin. Kelly became a model for Triumph International Undergarments, and an image of her was placed on a poster in London which is said to be the largest billboard in the world.
Kelly was splitting her presenting duties and television appearances between Select, VLP and Babewatch for Granada, and The T-Spot for Trouble TV. She was also co-host for No Worries, made appearances on Short Change and Fist of Fun, and hosted the Oasis Live at Wembley concert on Sky One.
She was seen on the big-screen in 2000, in the film, Sorted. She also made a guest-appearance in Mojo, and took her acting skills as a table dancer to the stage of the production, Eye Contact, at the Riverside Studios in London. She appeared in Pulp's 'Help the Aged' music video.
Talking in an interview Kelly says, "I am a light person. I think of myself with a shield, a protective shield around me. And I think of bad things bouncing off it. Boom, boom, boom, ba-boom, ba- boom!" the statement definitely shows her positivity towards life and probably her reason for being so bubbly all the time!
Kelly admired the Women in the 1950s. According to her they were much sexier and that's what she aspire to look like. While talking about her mom, Kelly says, "My mum was never strict. I was allowed to go out to clubs underage, watch TV, listen to whatever music I wanted to, and that made me not rebel. I have never touched a drug in my life. Why would I? My mum used to smoke cannabis in the front room, so I was never curious about it. My mum's a cool chick and in some ways we are alike. She's a strong woman, very sharp and perceptive."
Kelly Brook In Movies:
Sorted, Ripper, Absolon, The Italian Job, School for Seduction, House of 9, Deuce Bigalow: European Gigolo, Survival Island, In the Mood, Fishtales, Piranha 3D, Removal, Keith Lemon: The Film.
Kelly Brook Appearances In Series:
The (Mis) Adventures of Fiona Plum, Smallville, Romy and Michele: In the Beginning, Marple, Hotel Babylon, Moving Wallpaper, Renaissance, Britain's Got Talent, Skins, Celebrity Juice, Lemon La Vida Loca
Kelly Brook  In Theatres
Eye Contact, Fat Pig, Calendar Girls
Apart from these Kelly hosted a number of TV shows and has modeled for loads of brands.  She has also been spotted in the list of world's sexiest women. She has a perfect curvy figure that any woman will die for! So if you are a diehard fan of Kelly Brook you have all the reason to be one!