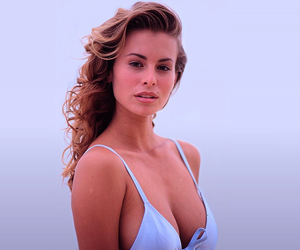 Niki Taylor, a successful Victoria's Secret and Sports Illustrated model has built quite recognition among her men fans due to her sex appeal and amazing hotness. The hot and sexy Niki Taylor was born and raised in Fort Lauderdale, Miami on March 5, 1975. Though, Niki Taylor wants to be a marine biologist, but her career took an entirely different twist after her mother sent her photos of 13-year-old beauty to a Florida modeling agency. The agency didn't wasted time in signing Niki Taylor as their fresh face. This new career plan suddenly gave recognition to Niki Taylor and at the age of thirteen her beautiful face begin to appear on the pages of French catalogues and magazines such as "Seventeen".
The hazel-eyed beauty Niki Taylor made her first million out of her modeling career when she was just 16 years of age. Her success story as a model is very long. With her killer looks, Niki Taylor graced over 160 magazines including Allure, Cosmopolitan, the American, Thai and Italian editions of Elle, Glamour, Harper's Bazaar, Mademoiselle, the Australian, Italian, British, and American editions of Marie Claire, Sassy, Shape, and Yahoo Internet Life.
The statuesque beauty Niki Taylor made marvelous career moves in modeling and broke several records in her freshman days as a model. At the age of 17, Niki Taylor became the youngest model ever to sign a multi-million dollar contract, when she was hired as the L'Oreal spokesperson and Cover Girl's newest face. Besides this great achievement, Niki Taylor also holds the title of being the youngest person to appear on the cover of the high fashion magazine "Vogue".
While her fan following was amazing, Niki Taylor also modeled for leading companies, besides showing off herself in magazines. The companies for which Niki Taylor modeled include Gap, Lee Riveted, Liz Claiborne, Nokia, Zum Zum, and the most popular Victoria's Secret. The advertising campaign of Victoria's Secret helped Niki Taylor is solidifying her modeling career.
The modeling career of Niki Taylor got her to appear in many ads and graced many magazines. Besides that, Niki Taylor also flaunted her curves for the parades on the catwalks of elite fashion houses including Chanel, Chloe, Givenchy, and Calvin Klein. Like most other leading models, Niki Taylor's fans got a treat when she released her own calendar. Through this amazing step, the male fans of Niki Taylor got a pleasure of seeing her every day of the year. Later in 1997 and 1998, Niki Taylor posed for the issues of Sports Illustrated's Swimsuit Edition.
Niki Taylor is not only a sexy and famous model, but also a wise entrepreneurial woman that knows the importance of motherhood and her two sons, Jake and Hunter. The hot and smart Niki Taylor is also the head and founder of her own company, Niki Inc. Niki Taylor tied the knot to football player Matt Martinez, who is the father of her sons. Though, Niki Taylor is not so much in the spotlight these days, but this intelligent beauty will always be considered as one of the great supermodels of the 90s.